Check out the new activewear sets that you can choose from for your February 2021 Ellie subscription box. Plus, see the Midnight Garden outfit and additional accessories as well as find out how to subscribe and save 25% off of your first order!
This post contain a referral links. If you purchase through my link, you will save 25% off of your first order and I'll receive a small credit on my account. Once you subscribe, you'll get your own referral link to share with friends and family too!
Here are the activewear outfit choices that are available for February 2021 at Ellie. There are 18 outfits to choose from this month. Quite a few of them are repeats, so if you were ever torn between a few options, you might be able to snag a past favorite this month.
You can head over to the Ellie website to sign up and choose one of these outfits (if available) until the end of the month. If you are a current subscriber, you must choose or skip by February 4.
In the fall they started adding more pull overs and long sleeve shirts to the collections. There's a good mix of long sleeve tops, sleeveless tops, pullovers and jackets this month.
The accessories this month, if you have a 5-piece subscription, are a jumprope and a pair of workout gloves.
I chose Midnight Garden, but also really love the Rosy Outlook set. I would have chosen that one had the top been a sports bra rather than just a cropped tank top.
Which would (or did you) pick?
What Is Ellie?
Let's first talk about what Ellie actually is. Ellie is a monthly activewear subscription with the option to just get the activewear or activewear and accessories and equipment.
You get to choose your outfit from at least 12-18 different options, with some being repeats from prior months.
There is also the ability shop previous collections (it does cost a bit more and only includes the clothing) and must have essentials that are all marked down significantly.
How Does Ellie Work?
Ellie chooses and outfit for you each month, but you have the ability to go in and change it or skip the month all together. You just need to log in between the 1st and the 4th of the month to do so.
I have not received any reminder emails to do this. So far, I've just remembered to check on the 1st of the month because I'm so excited to see what's new, but it might be a good idea to set a reminder on your calendar.
How Much Does An Ellie Subscription Cost?
There are 3 different subscription options:
The 2-Item plan is $39.95 a month and includes a top and bottoms.
The 3-Item plan is $44.95 a month and includes a top, bottoms, and a sports bra.
The 5-Item plan is $49.95 a month and includes a top, bottoms, a sports bra, and 2 pieces of accessories or equipment (like dry towels, a sports bag, workout bands etc.)
Remember, your first outfit is 25% off, regardless of which subscription you choose.
For me, it made sense to sign up for the 5-Item plan because I knew I wanted the 3 pieces of clothing. It's only $5.00 more for the 2 additional items.
This is considerably less than other fitness wear subscriptions, so the question becomes, "How's the quality?"
February 2021 Ellie Unboxing Video
Possibly coming soon. If I don't get around to doing an unboxing this month, I should be back on track next month. Life just got a little crazy unexpectedly this month.
February 2021 Ellie Subscription Review
Marika Layla Sports Bra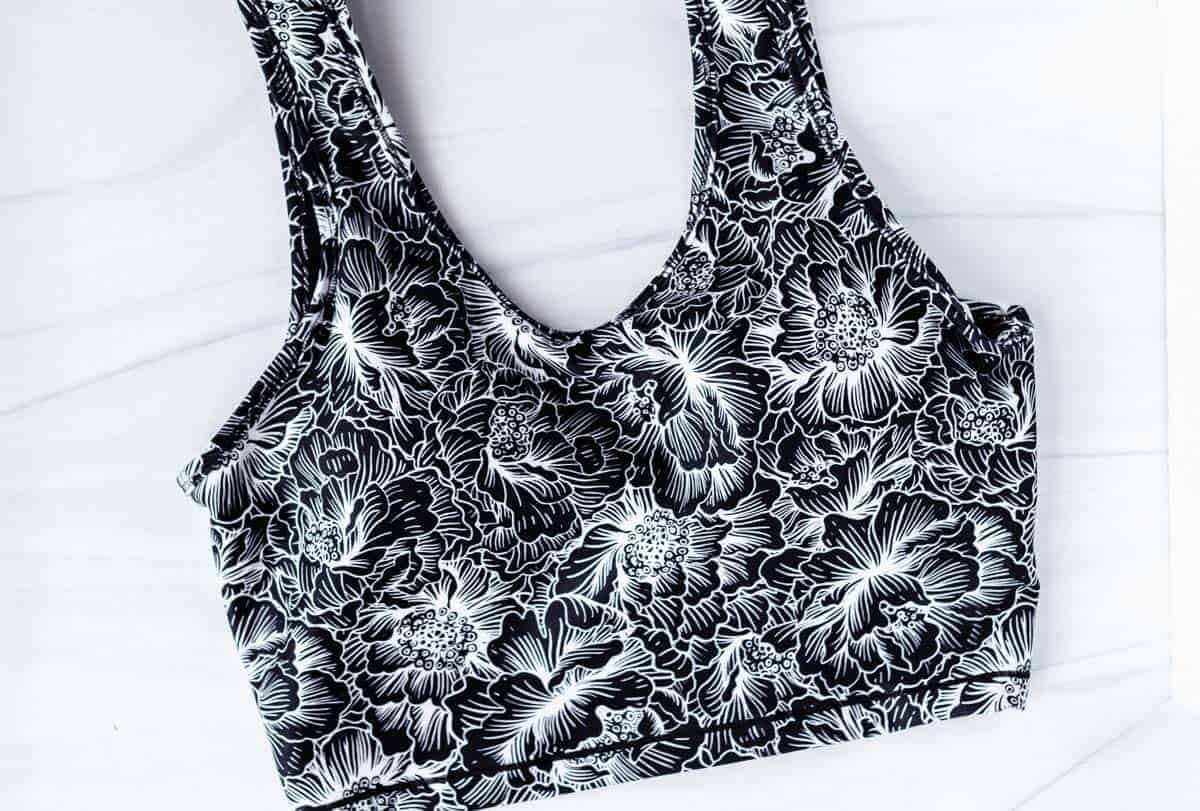 I like that this sports bra is a bit longer than most. I hope to one day see full tank tops with built-in bras as a choice.
The fabric is super soft, as always. The print isn't my favorite, but it's something different and it's really not too "out there."
This sports bra is medium impact and has a 2.5-inch underband to help hold it in place.
Marika High Waisted Ankle Leggings
The leggings are the same fabric and print as the sports bra.
This pair has a high-waist and are cropped. There is a media pocket on the inside.
The leggings that I got from Marika last month are one of my favorite pairs and fit the best of any that I have. These are very similar.
Marika Williston Jacket
The jacket that came with this set has a full-length zipper and is made from the same super soft fabric.
I don't like fitted jackets like this. I much prefer looser fitting jackets because I want to be comfortable, not sucked in.
I order a size up for almost everything at Ellie so that it's a more comfortable fit, including jackets. It gives me a little more room, although the sleeves then tend to be a bit long.
Marika Jump Rope
I didn't really care for or need either of the accessories this month. I believe that Ellie now makes it easier to switch your plan, or the ability to is coming soon.
I have a couple of jump ropes already and don't use them. I'll probably end up donating this one.
Marika Fitness Gloves
Again, I didn't really need or want these gloves.
I have never had a bad experience with any of the additional items that Ellie includes with the 5-item subscription, however this one was a little different.
The gloves were in a clear plastic bag with the tag, but they weren't attached. They don't appear to be worn, but I don't think I can give these away as "new." I'll probably still donate them or give them to a friend.
Final Thoughts
Overall, I am pretty happy with this month's Ellie box. The outfit is cute, though I wish the jacket wasn't so fitted.
I'll get plenty of use out of the leggings and sports bra. It's also a nice neutral color so I really can pair any top or jacker over it.
I could have done without either of the additional items this month. I'll be looking into the ability to switch to a 3-item subscription in the future, if the additional items don't appeal to me.
The way the gloves were packaged also caused me a bit of confusion this month. Again, this has never happened before.
Honestly, I absolutely love Ellie. The value is amazing for really good quality clothing and the price is much more reasonable than other similar subscriptions.
More Ellie Reviews
If you want more examples of what kind of clothing and accessories you might receive from Ellie, you can check out my past Ellie reviews below:
How To Sign Up For An Ellie Subscription
Ready to give Ellie a try yourself? You can sign up on the Ellie website. Remember that using my link will save you 25%!
If you've tried Ellie, I'd love to know what you think – leave a comment and let me know what outfit you're choosing this month!
Enjoy this February 2021 Ellie Activewear review? Follow me on Instagram, Pinterest and Facebook for more!