Learn more about Glow Recipe and their Plum Plump Hyaluronic Serum in this review. I share exactly how I use it, the results I have experienced and where you can purchase the product should you decide to try it.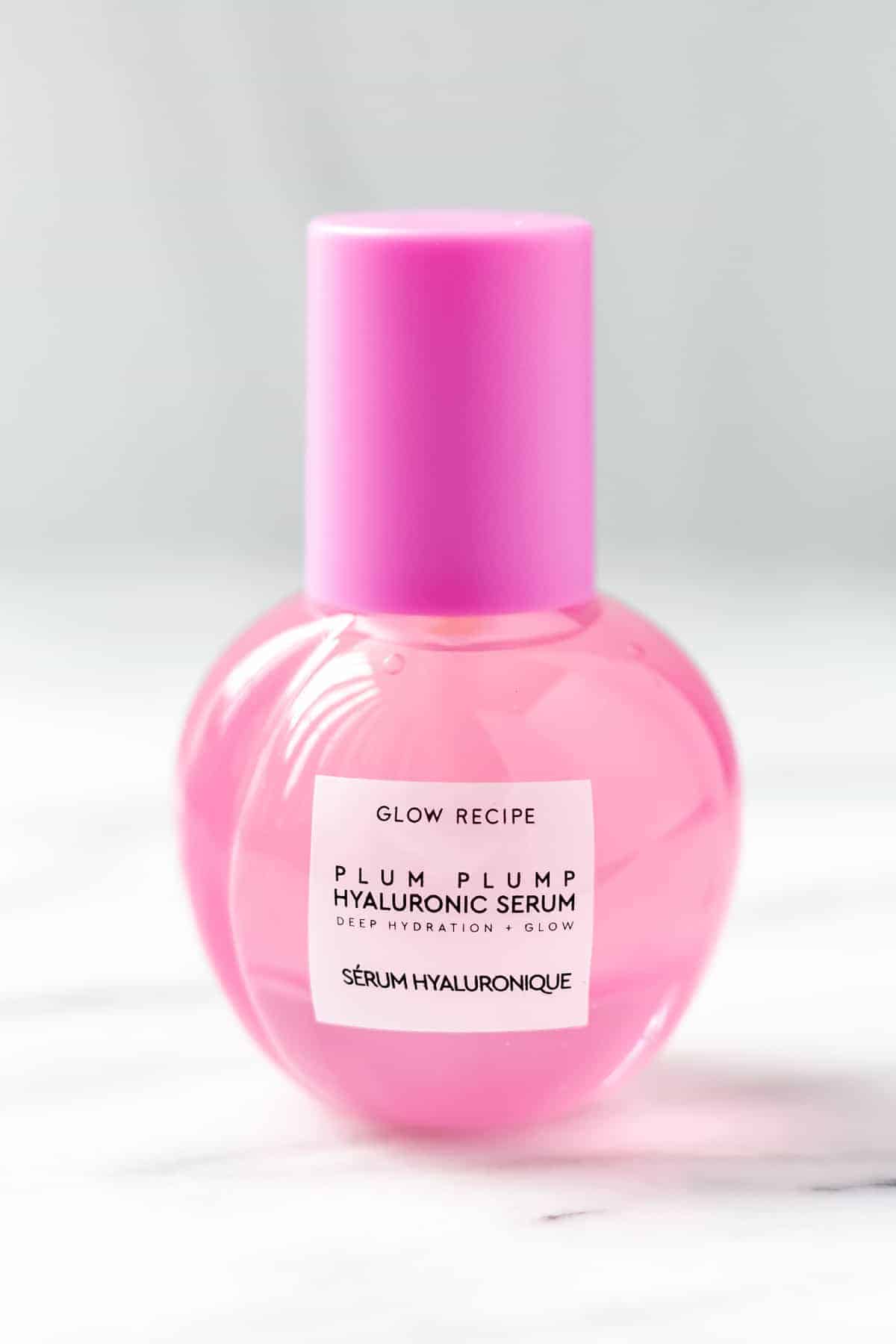 This post contains affiliate links. See our Disclosure Statement for more information.
With so many different skin care products on the market, it can be really overwhelming to decide which ones you should invest in. This is especially true when it comes to trendy or higher end products.
Glow Recipe is a brand that has been popping up everywhere from pretty much every social media platform to magazines to subscription boxes. It's a brand that's hard to miss at the moment.
I have had such great results with the three other Glow Recipe products that I've tried so far – Glow Recipe Banana Soufflé Moisture Cream, Glow Recipe Papaya Sorbet Enzyme Cleansing Balm and Glow Recipe Avocado Melt Retinol Sleeping Mask that I've decided to try even more of their products.
In this review, I tested the Plum Plump Hyaluronic Serum. Once again, the results that I have experienced are amazing.
Below I will discuss more about the brand, the product itself, the results I have experienced and where you can purchase the product should you decide to try it.
About Glow Recipe
Glow Recipe is a skincare company with a presence in the United States and parts of Europe.
Their products were initially inspired by Korean beauty, also commonly referred to as K-beauty. The founders have even traveled to Korea on multiple occasions to perfect their formulas.
All of Glow Recipe's products are powered by fruit and other high-quality, natural ingredients. The products are clean, cruelty-free and free of parabens, sulfates, and phthalates.
The product line includes cleansers, moisturizers, serums, treatment masks, toners, body cream and lip balm.
My Glow Recipe Plum Plump Hyaluronic Serum Review
What Is It?
Plum Plump Hyaluronic Serum is a facial serum that is applied to clean skin twice a day.
The purpose of this serum is to provide intense hydration which can also soften and smooth fine lines and wrinkles.
The serum is light, with a slimy texture that makes it very easy to spread across the face. Very little product is needed per application.
There are 4 main ingredients in this serum:
Hyaluronic Acid: this formula contains multiple different weights of hyaluronic acid to help skin retain moisture and prevent loss of moisture.
Plum: a combination of 3 antioxidant rich types of plums are used to provide hydration and nourishment for a more youthful appearance.
Collagen and Silk Protein: protect against free radicals and hydrate the skin.
Vitamin B5: hydrates, soothes, and rejuvenates.
Who Is It For?
This serum is acceptable for all skin types, including sensitive skin.
It is especially beneficial to those with dry and/or aging skin.
How I Used It
I use this serum twice a day. It's the first product that I apply after cleaning my face.
According to the directions, 1-2 pumps should be applied to slightly dampened skin, twice a day. The reason you want to apply this product to damp skin is because hyaluronic acid really helps your skin hold onto moisture.
This is why products containing hyaluronic acid tend to work really well. The more moisture your skin has, the more plump and full it is, which diminishes the appearance of fine lines, as well.
The product applies very easily and only takes a minute or two to absorb into the skin.
Glow Recipe does recommend using this product mixed with their Pineapple-C Bright Serum for maximum results. For the remainder of the bottle, I will be doing that to test out the Vitamin C serum, as well.
Full disclosure: During the 3-4 weeks that I tested this product, I also used Kiehl's Vitamin C Eye Serum, Neostrata Triple Firming Neck Cream, First Aid Beauty Coconut Skin Smoothie Priming Moisturizer, and The Ordinary Rose Hip Seed Oil.
My Results
Glow Recipe's website has results from a study they conducted on their website. After just 1 day, the results were:
100% said their skin felt hydrated.
100% said that the serum absorbed easily into their skin.
94% said that their skin felt softer and smoother.
94% said that their skin had a healthy, glowing radiance after use.
92% said that their skin felt supple and plump.
After 3 weeks of use, I can honestly that:
My skin feels hydrated.
The serum absorbed very easily and quickly into my skin.
My skin feels soft and plump.
These are results that I experienced from the start and it does seem that extended use will continually improves the results. While the results are more of an instant fix, long term use can probably help to slow down the formation of new lines and wrinkles.
I did not experience any irritation with this product.
It does leave a bit of a tackiness behind, but that goes away when you apply moisturizer.
Overall, like with every other Glow Recipe product that I've tried so far, I am super happy with the Plum Plump Hyaluronic Serum. I will continue to use it and would highly recommend it.
How Much Does It Cost?
Glow Recipe's products fall more in the mid-range for skin care. All of their individual products are currently priced under $50.
The Plum Plump Hyaluronic Serum has a retail value of $42.00.
How long this product will last will very greatly on if you need 1 or 2 pumps. I used 2 pumps twice a day and still have about half a bottle left after 3 weeks.
Where Can You Buy It
There are several places you can purchase Glow Recipe Plum Plump Hyaluronic Serum:
Enjoy this Glow Recipe Plum Plump Hyaluronic Serum Review? Follow me on Instagram, Pinterest, and Facebook for more!