The Fall Beachly Subscription Box is here! This box contains beach inspired lifestyle items that are perfect for the current season. See what comes in the box this fall and how to sign up for Beachly yourself!
This post contains affiliate links. See our Disclosure Statement for more information.
The fall 2023 Beachly box is my second box since starting my subscription.
I should have been able to choose many of my items, but unfortunately that wasn't the case for me. It may have been due to me signing up for a subscription after the window to choose items was closed. My first box included summer items, so it was a little disappointing to not get to choose.
I liked most of the items that would have been available to choose, but there was one I really didn't want that I ended up getting.
Such is life, I guess. In actuality, the item wasn't as bad as I thought it was going to be!
Hopefully, I will get to choose for winter, but for now let's take a look at what came this season.
What Is Beachly?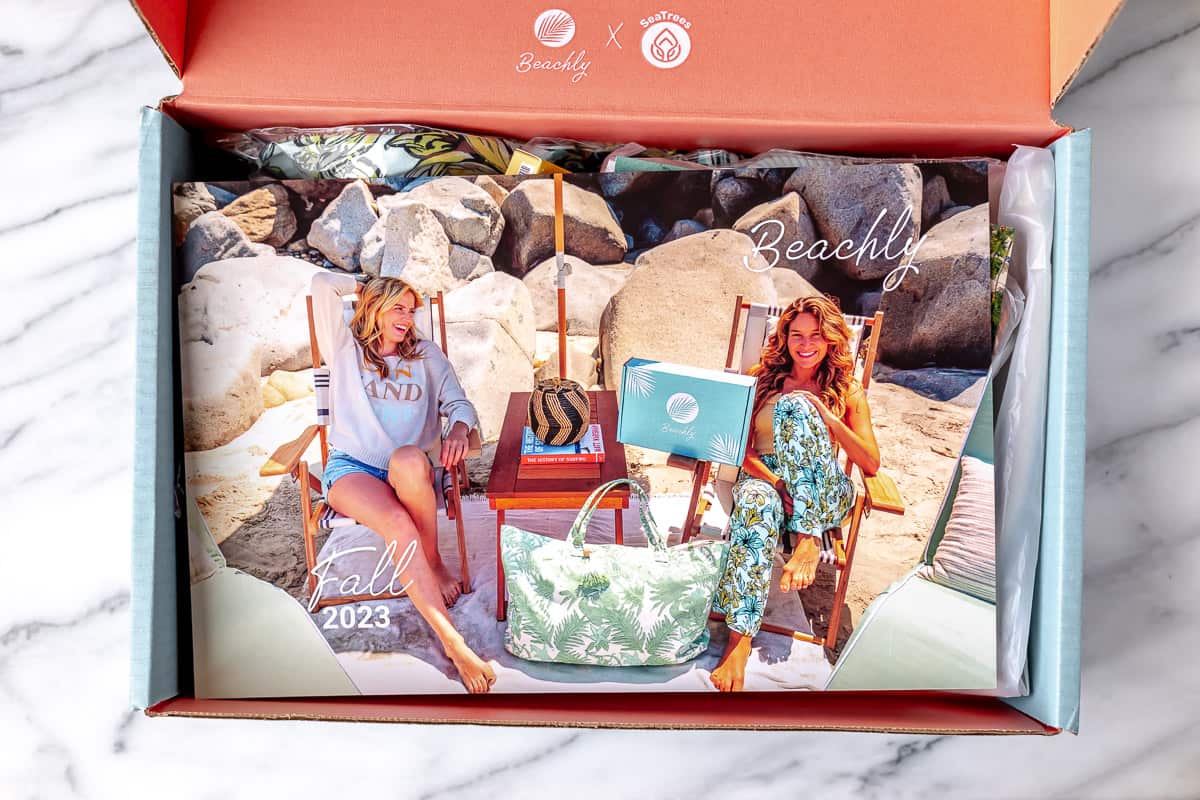 Beachly is a coastal lifestyle subscription box that ships quarterly. There is a women's box and a men's box.
It contains items like clothing, jewelry, decor, and more.
Can You Customize Your Beachly Box?
Yes, you can customize a couple of the items in your Beachly box. I still haven't gotten to choose for an upcoming season yet. I will update this in future reviews once I've gone through the process myself.
Just be aware that customization closes before boxes start to ship so you may have to wait until the next box to be able to customize.
Add On's
Add-on purchases are also an option each season.
Again, I haven't been through this process yet and will update this section in future reviews once I learn more.
How Much Does Beachly Cost?
Beachly has two subscription tiers, seasonal and annual. Seasonal is $99.00 a quarter. You can also pay for an annual subscription (4 boxes) upfront for a total of $336.00 which saves you $60.00 over the year.
Fall 2023 Beachly Review
Please keep in mind that some items will vary and that you will not have the ability to choose all of these items at this time. The window to choose items is only open for a short period of time, before boxes start shipping out.
Note: the first box is a welcome box, where you get to choose from some newer items and some past box items.
Take Me To Paradise Sweater by Saltwater Luxe ($138.00)
This first item was a choice item. Members could choose between this top and a large tropical print tote.
I probably would have chosen the tote, but I'm not upset with the sweater. It's a perfect item for fall at the beach.
It seems to be true to size and is nice quality, however, it's definitely not worth the high price tag. You can see in the photo that the stitching isn't very well done around the letters.
It's pretty common for subscription boxes to include items with heavily inflated price tags that are often made in China.
Blue Lagoon Beach Pant by Beach Riot ($95.00)
These pants were another choice item. Members could have also chosen a pair of sunglasses.
I 100% would have chosen the sunglasses.
The print is a bit much for me, but once in hand, it wasn't quite as bad as I expected.
I will likely only wear these as pajama pants. The print still isn't my favorite, but they are super thin and soft so they will definitely be comfy to wear.
Again, I personally believe the price is heavily inflated.
Mermaid Milk Moisturizer by Earth Harbor ($42.00)
Members could choose this moisturizer or a pair of white socks with a blue sun on them.
I do like the products I've gotten from Earth Harbor in the past, so I was happy to have gotten this item.
I've used it for about a week now and it's a very good product. It's not irritating and absorbs pretty quickly.
Wanderlust Wallet by Vagabond Goods ($40.00)
All members will receive this item.
I really like this wallet and do plan to use it this fall.
It definitely has a fall feel to it. There are lots of slots to keep your cards and cash.
The price on this one seems to be a bit closer to what one might realistically pay for it.
Kukui Lip Balm Trio by Hanalei Beauty ($25.00)
All members will receive this item.
I've gotten this lip balm set before.
I keep it with our sunscreens for when we are poolside or at the beach in the summer, but it's not a go-to lip balm for me any other time.
It's okay though. It doesn't irritate and seems to work well.
Beach Treasures Magnet Set by Lani Makana ($20.00)
All members will receive this item.
I love the idea of these magnets. In my set the starfish points were all chipped or scratched off and the sea glass didn't feel real to me. You can also see the magnets through it.
The sand dollar was perfect though and I do think the starfish was a great idea, but should have been packaged better.
Fall 2023 Beachly Box Final Thoughts
Overall I'm happy with this box even if I didn't get to choose.
Are there things that are over-valued? There always is with these kinds of subscription boxes. If the value to me exceeds the money I paid, I'm happy.
I do think that Beachly does a great job at choosing items that fit within their niche and within the season. It will be interesting to see what comes in the winter box.
I am still on the fence about upgrading to an annual subscription. I'm not sure I've really figured out how Beachly works just yet, but once I do I'll be sure to add much more detail in future reviews.
How To Subscribe to Beachly
To sign up for Beachly, head on over to the Beachly website.
I hope you find my first Beachly Subscription Box Review helpful. If you have any questions, please don't hesitate to ask.
Also, be sure to follow me on Instagram and Pinterest for more fun, lifestyle content!