After a terrible experience with Gobble a few years ago, I decided to give this meal kit subscription another try and have had better luck. Find out how Gobble works, what kind of meals you can expect and how to get 6 meals for just $36.00!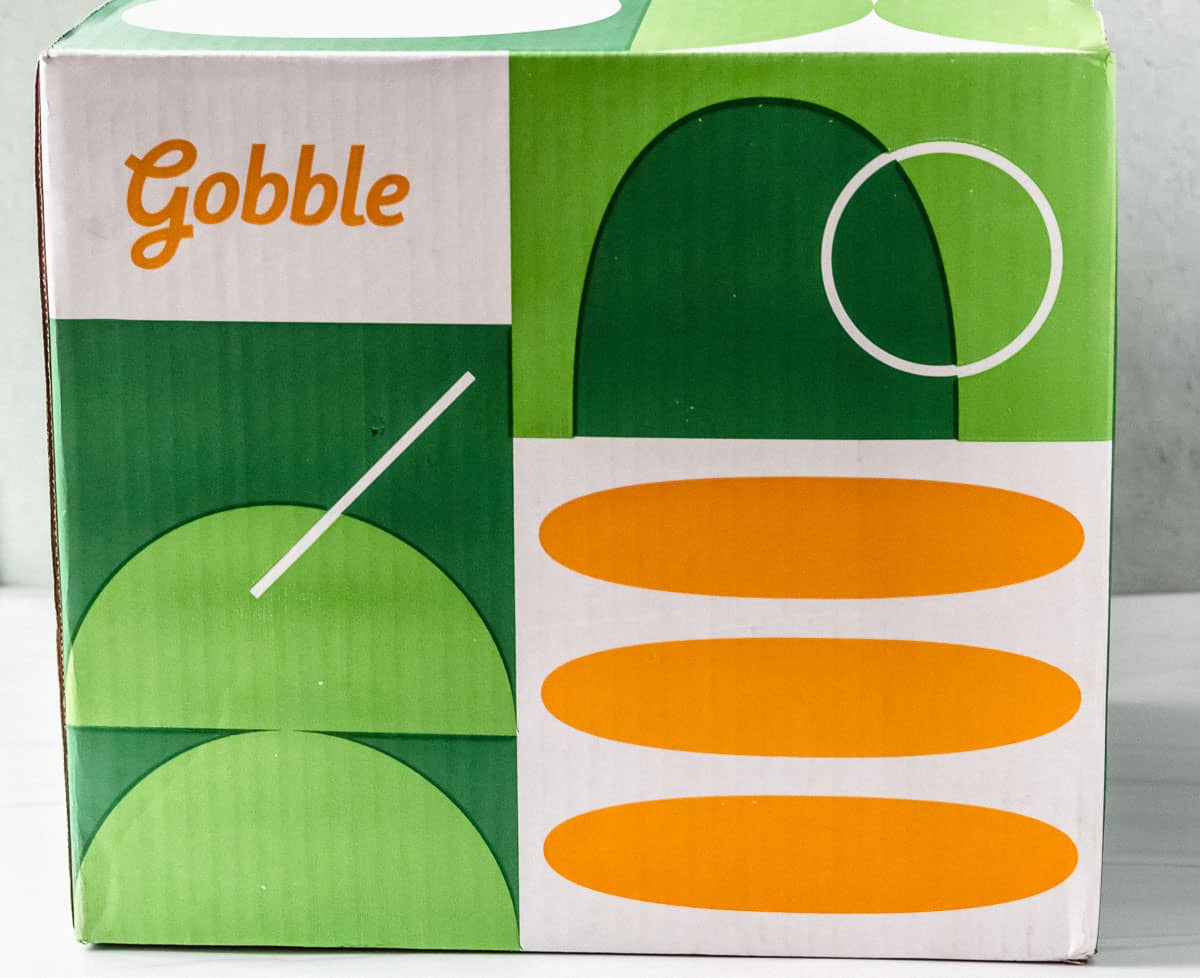 This post contains affiliate links. See our Disclosure Statement for more information.
I first tried Gobble in February 2018. I was so disappointed in the food, that it took me three years to finally be willing to give them another chance.
I've never had a bad experience with any other meal kit, so I was quick to write them off at the time.
Why was Gobble so bad? Basically the quality of the food was below that of the other meal kits at the time, and the recipes just weren't that great. My husband literally threw away his steak and I've never seen this man throw away steak before.
Due to their 6 for $36 deal, I decided to give them another try in February 2021 and had a better experience. I've had one other box between now and then.
I canceled my subscription because I cook and develop recipes for a living. Simply put, I just don't need these types of boxes, but I do enjoy them once in a while.
So why am I reviewing another Gobble box? Because they offered me the same 6 for $36 deal to come back and I couldn't say no to a few easy meals to make my life a bit simpler while the kids are out of school.
What Makes Gobble Unique?
Gobble claims (or used to claim) that their meals can be made in just 15 minutes because their chefs do the majority of the prep work. You can also swap out the proteins in some of the meals.
When I was updating my notes on Gobble, I noticed that they now have what they call "Lean and Clean" meals where the carb count is a bit lower. It's not so low that it would work with most keto diets, but some of the meals are very reasonable if you are able to cut carbs out of the rest of your day.
July 2021 Gobble Review
Plans and Cost
With Gobble, you are required to order a minimum of 2 of the main meals (not add ons) with 2 servings of each to meet their shipping requirements.
Meals are $11.99 per serving, if you order 3 or more meals (6 or more servings). Each meal is $13.99 if you only order the minimum of 2 meals (4 servings). There is no set limit as to how much you can order.
Shipping is a flat rate of $6.99 per order.
Packaging and Delivery
Delivery days depend on your location. You are able to change to delivery day when more than one day is available.
Because Monday is not an option where I live, I chose to receive my delivery on Tuesday or Wednesday.
My package arrived on time and very cold. Even with 90°F+ temperatures, half of the ice was still solid.
Inside the box, each meal is packaged together. I know that some may find this wasteful, while others appreciate how easy it is to gather all of the ingredients when you are ready to cook.
I do recycle as much as possible.
There were 2 large ice packs in the bottom of the box and the 2 packages of chicken were right on top of them and super cold.
The Food
Meal 1: Persian Chicken Koobideh with Herbed Rice & Tzatziki Sauce
This is the meal that I was most excited for. I've been on quite the Indian food kick lately.
Koobideh are basically meatballs made with ground chicken, korma spice, turmeric, garlic and shallot. They came out extremely flavorful!
The rice was already prepared and just needed to be warmed in the microwave. To my surprise, it wasn't dry at all after reheating it.
The tzatziki sauce was also already prepared.
The only prep work was to mince the herbs, slice the tomatoes in half, and form the meatballs.
As you may be able to see above, the tomatoes arrived a little bruised. One had a cut into it and the other was bruised and somewhat mushy. The cilantro and parsley was packed together and while the parsley was in perfect condition, the cilantro was dark, wilted and not much of it was usable.
The funny thing to me is that Gobble does an amazing job packing eggs, as you will see further down. Yet, they just threw delicate, whole tomatoes into a bag full of other items without any protection at all.
Overall the recipe did take slightly longer than 15 minutes, but was very easy to prepare. The flavor was extremely delicious, even without the extra cilantro and all of the different components complimented each other very well.
I would definitely order this again and hope to create my own recipe for koobideh soon!
Meal 2: Huevos Rancheros with Refried Beans, Salsa & Avocado
This dish is made by heating up salsa or ranchero sauce in a skillet, then adding the eggs and cooking until they are done to your liking. It was very easy.
The tortillas were warmed in the oven, while the refried beans were heated in the microwave.
After everything was cooked or warmed up, assembling the dish was a breeze. I simply added refried beans to the tortillas and topped them with the eggs and ranchero sauce, cojita cheese and avocado.
The slaw on the side came in a bag that was a blend of shredded cabbage and cilantro. I had to squeeze the lime juice into it, add salt and pepper and stir. It was good, though a bit sour.
Again, the cilantro for this meal was a complete loss as you can see in the photo. Thankfully the cilantro that was already mixed into the cabbage was perfectly fine. This additional cilantro was to be used as a garnish.
This recipe also took a bit longer than 15 minutes, but that was mostly because I missed the part to preheat the oven to warm the tortillas so I had to wait on those after I cooked everything else.
Meal 3: Sheet Pan Chicken with Basil Mashed Potatoes & Roasted Zucchini Squash
This is a pretty basic meal, in my opinion. I tend to lean towards meals with bigger flavors, but I'm thinking that there might not have been anything else I really wanted to try or I chose this by mistake.
It's not that it's bad, just a bit boring for my personal tastes.
The vegetables were tossed in most of the pesto. The remaining pesto was supposed to be stirred into the potatoes but I love plain mashed potatoes and chose not to do that.
The chicken was supposed to be tossed in grated cheese in the same bowl used for the vegetables and pesto. I decided to just added the rest of the pesto to the bowl and coated the chicken in it.
The chicken and vegetables cooked on a sheet pan in the oven for 16-18 minutes. The mashed potatoes just needed to be heated up in the microwave.
Overall, it was a good dish. An additional plus is that all of the ingredients for this recipe arrived in good condition.
Final Thoughts
Overall, this experience with Gobble mostly positive, however I did reach out to customer service about my issues with these meals just so that they are aware.
The quality of the meats has most definitely improved since my initial bad experience, but there were definitely some small issues with the quality of the produce in every box.
The issues haven't been so bad that the meals were not salvageable or even affected all that much at all, but it is still bothersome. I have not had this issue with another meal kit subscriptions, though I am sure it still happens occasionally.
Even though I didn't take advantage of adding additional items this week, I do like the fact that you can add on to your order and that there are a lot of options.
Tips For How To Order
I always see people upset that they can't view the menu before entering credit card information with many of the meal kit subscription services. The truth is, you can see the menu, but they don't always make it easy. Here are a few ordering tips should you choose to order from Gobble:
View the menu from the link in the top menu bar before entering your email to use the discount. Make note of which week you want to start based on which meals you want to try. Once you enter your email, it's a hassle to try to go back to the menu because Gobble starts moving you through the sign-up process.
There is no need to sign up specifically for Gobble's Lean and Clean plan. You can still choose from the Lean and Clean menu items from the main plan. Most weeks have 3 Lean and Clean meals, while I did notice that some weeks only have 2.
Be aware that you can't see the recipe specifics such as ingredient list and nutritional information until after you sign up for an account.
Current deals for new customers (may also work for returning customers if quite a bit of time has passed) are:
Love this July Gobble review? Follow me on Instagram and Pinterest for more!