See some of the beauty products that you may receive in the April 2021 Boxycharm Premium box, learn how Boxycharm works, and how you can easily sign up for this beauty subscription yourself.
This post contains affiliate links. See our Disclosure Statement for more information.
This month's Premium Boxycharm box was a little bit different than usual. Subscribers were able to choose 2 items. Honestly, that saved this box for me.
There were some really good additional items that you could have gotten, but I found. mine to be so-so, although very usable which does help, as well.
I'll explain exactly how BoxyCharm works below, as well as share a complete review of my BoxyCharm Premium box. If you already know the deal, skip on down to the April 2021 BoxyCharm Premium Review heading.
What Is Boxycharm?
Boxycharm is a monthly beauty subscription. They send a variety of skin care, hair care, and makeup products and tools each month.
How Does Boxycharm Work?
This is where things get a little bit confusing, so I will try to break it down and make it easy to understand.
Boxycharm has 3 different types of boxes, their regular monthly base box, a premium monthly box, and a luxury box that is only available quarterly.
Initially, I wanted to only sign up for the premium box. I kept seeing a button for "Join The Waitlist" but every time I clicked it, it took me to the page to sign up for the regular monthly box.
As it turns out, you have to be a subscriber to the monthly base box in order to be able to add-on the Premium box. That's right, you will get two different boxes each month – each with it's own cost (more on that in a minute).
BoxyLuxe is a luxury box available every 3 months. You pay an additional fee to upgrade your base box to a luxury box. More details on this box are below.
How Much Does Boxycharm Cost?
Here's a quick breakdown of each box, how much it costs, and what you can expect to get.
BoxyCharm Monthly Base Box: this box is $24.99 a month. You will receive 5 full size beauty products, one of which you get to choose, with a value of at least $120.00. There is a huge variety of brands from lesser known brands to very popular brands. There are also many box variations each month, so what I have in my box may be completely different from what you will receive.
BoxyCharm Premium: to get this box, you must be subscribed to the base box for $24.99/month, then join the waitlist for Premium. Once you are activated from the waitlist, you pay an additional $35.00/month for this box. There is a note that you can cancel either your base box or Premium box at anytime after the first month of being subscribed to both. The Premium box has 6-7 full size beauty products, one of which you get to choose, with a value of at least $175.00.
BoxyLuxe: this is a quarterly box that replaces your base box if you choose to upgrade. The cost is an additional $25.00. You will get 8-9 full size beauty and lifestyle products, with the ability to choose up to 2 products. The value of this box is at least $250.
All of the boxes are eligible for add-on's, access to the pop-up shops, and rewards for reviewing the products that you receive in your box each month.
It seems as if there is frequently a bonus for new subscibers, you can check out the current offers on the BoxyCharm website sign up page.
April 2021 BoxyCharm Premium Unboxing Video
Unfortunately, I am unable to do unboxing videos at this time. I keep hoping to get back on track, and am happy to report that I just found my tripod. Our home is mostly packed up for some restoration work and it's been rough living out of boxes!
April 2021 Boxycharm Premium Review
Fenty Beauty Pro Filt'r Instant Retouch Primer ($32.00)
This Fenty Beauty Pro Filt'r Instant Retouch Primer is not one of my choice items, but I listed first because I had a different primer listed first last month.
I haven't been great about using primer, and have a couple of unopened ones to try still, so I really didn't need this one. I wish Boxycharm would take into consideration when you last received items like this that take some time to work through.
Also, I did just recently try a Fenty mascara and am not impressed. However, I have heard some of this brand's products are amazing.
This primer is supposed to create more of a matte finish, diffuse the appearance of pores and help makeup last longer.
I guess I'm going to add this to stash to get to eventually, but I'm not 100% sure yet.
This product is made in Italy.
Iconic London Sunset to Sunrise Eyeshadow Palette ($62.00)
I chose the Iconic London Sunset to Sunrise Eyeshadow Palette because it appeared simply beautiful in the photos. I also checked out this brand's website because I'm not familiar with them and the reviews are really good!
The colors in this palette are stunning! I don't get too excited for palettes because Boxycharm sends so many, but this one has my tune all kinds of changed.
The majority are shimmers. There are a few matte shades and some shimmers which have much less actual shimmer mixed into them, if that makes sense.
With the exception of the yellow and maybe the gold, I think I'll actually use all of these shades.
It's hard to see in the photo, but the white shade is halfway popped out of the palette and the silver shade almost looks like it's been rubbed.
I am definitely happy with this item, I just wish that it wasn't made in China is all.
NARS Blush in Deep Throat ($30.00)
I've always wanted to try NARS very popular blush in Orgasm, but still haven't. This shade called Deep Throat is pretty close though.
This blush was my second choice item this month. The packaging does feel much more high-end.
It's a very pretty peach with a hint of pink and shimmer. I love to wear more peach tones in the summer and think this will be stunning!
This product is made in Canada.
Nails Inc. Crystal Ball Rollergloss Duo ($24.00)
It kind of bugs me that an item like this is included in the "premium" box. It's a bit gimmicky, in my opinion.
It's not that I don't believe in Chakras and the power of crystals. I don't have any experience with it, but I really don't think throwing a bunch into a lip gloss is how it all works.
They are pretty though, so there's that. I don't need them, so I'll pass them along.
These glosses are made in China.
KVD Beauty Cake Pencil in Trooper ($20.00)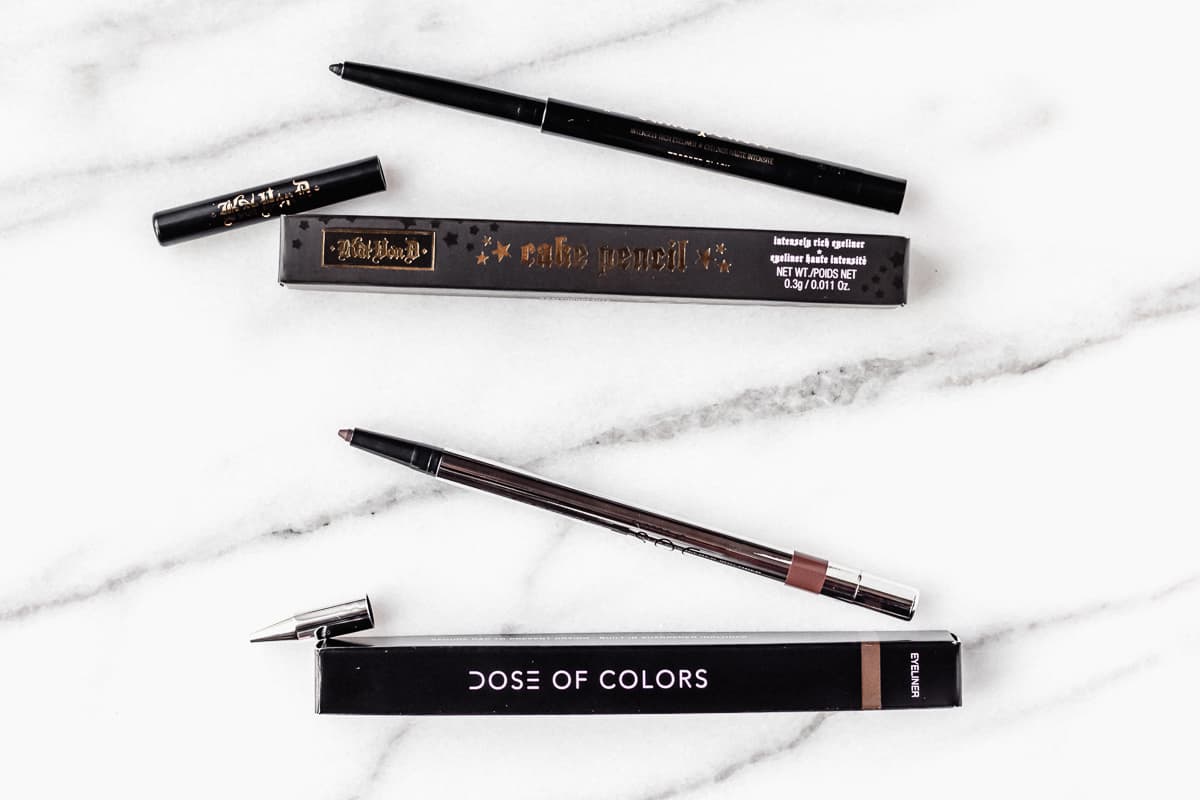 This is the first of two eyeliners that I received this month. Exciting, huh?
I'm a little confused a little by this eye pencil. I think that KVD beauty, formally Kat Von D Beauty is getting rid of anything with her name still on the packaging, as this one does still say "Kat Von D" on it.
The eyeliner is still an item that they sell on the website. Overall it has really good reviews. I use black and brown eyeliners, and am on what I think is my last liquid black eyeliner. So, even though this isn't the most exciting item, I'll definitely use it.
This item is made in Italy.
Dose of Colors Eyeliner in Sketch ($15.00)
Last month I received Dose of Colors eyeshadow, this month eyeliner.
Sketch is a pretty brown shade. I'm currently using a Stella Smudgestick in brown that has got to be running out soon (it's impossible to tell how much is left).
Again, I'm not exciting to have gotten 2 eyeliners, but I'll use both of them.
This product is also made in Italy.
Final Thoughts
The retail value of my particular box is $183.00 which is lower than most of my Boxycharm Premium boxes, but still a great value for only $35 a month.
I absolutely love the palette and the blush that I chose, and will use the eyeliners. I'm on the fence about the primer and will be passing along the lip glosses.
It looks like Boxycharm is going to continue offering Premium subscribers two choice items.
The FIRST choice items for the May 2021 Boxycharm Premium box are:
Bloomeffects Royal Tulip Nectar
Haus Laboratories Glam Room Palette No. 1
The SECOND choice items for the May 2021 Boxycharm Premium box are:
Too Faced Melted Chocolate Liquid Matte Eyeshadow (multiple shades)
Too Faced Hangover Replenishing Face Primer
Choice hasn't opened yet, but I'm leaning towards the Bloomeffects Royal Tulip Nectar in the first category. I'm a little disappointed in the second category because I just received the Too Faced Primer last month as a choice item!
As I mentioned above, I am overloaded on primers, so it looks like I'll have to choose one of the melted eyeshadows.
How To Subscribe To Boxycharm
You can sign up for a Boxycharm subscription on BoxyCharm's website. Be sure to take advantage of any current free gifts with your new subscription. If you're interested in BoxyCharm Premium, make sure that you join the waitlist so that you can be activated as soon as possible.
I hope you find this April 2021 Boxycharm Premium Review helpful. Follow me on Pinterest, Instagram, and Facebook for more fun beauty and lifestyle content. I've also have a YouTube channel where I am sharing unboxing videos, empties, and more!