A comprehensive review of The Ordinary Squalane Cleanser including a video showing it in use. Learn about the benefits of squalane, how it works, and where you can purchase this product.
This post contains affiliate links. See our Disclosure Statement for more information.
The Squalane Cleanser is the only cleansing product currently in the The Ordinary product line up. It is intended to cleanse the skin, including makeup removal, as well as support surface hydration.
Squalene (with an e) is normally found in skin, but production declines with age. It is also found some plants which is extracted and hydrogenated into squalane (with an a) for use in skin care products.
On EWG's Skin Deep Cosmetics Database website, this product is rated a 2, which falls into the green, or generally regarded as safe, category.
It's suitable for all skin types and the website states that the formula is non-drying. It should be used in the AM and PM before any other treatments are applied to the skin.
Benefits of Squalane
In addition to cleansing the skin and providing hydration, squalane has several other benefits including:
balances oil production
reduces inflammation
fights free radicals
increases collagen production
How To Use
This cleanser has a balm-like consistency when first squeezed out of the tube.
The instructions state to rub it between your fingers for 10-30 seconds to transform it into a clear oil-like substance.
This activates the ingredients within it to trap the makeup and dirt particles which are then rinsed away with water.
Then, gently massage it onto your skin in a circular motion to remove your makeup and cleanse the skin. Rinse with water and pat dry.
Makeup Removal Video
My Review
The majority of the reviews that I read on the Ulta and Sephora websites regarding the Squalane Cleanser are positive. Most mention that this product is very effective, especially at removing makeup.
However, there were some negative reviews. Most of those reviews stated that they didn't like the oily feeling or that they felt their skin was oily feeling after using it.
My Skin Type
I have normal to combination skin. I do get a tad oily, mostly around my nose. I have visible pores on my nose and cheeks. I do not have blemishes often. There is a larger dark spot on one check and some smaller spots or freckling around my eyes. I also have several areas of melasma under my eyes and on my cheeks.
I am 41 with only slight fine lines around my eyes that become more visible when I smile. I am also noticing a lack of firmness lately.
How I Use The Ordinary Squalane Cleanser
I have been using the squalane cleanser every morning and night for a couple of weeks now. I have used it on it's own, and I have used it after makeup remover wipes.
I have to say, this cleanser really does remove all traces of eye makeup without having to use anything else. Even after using a makeup wipe, there was still so much mascara that the Squalane Cleanser easily took off.
I do not feel any oily residue what-so-ever. I do usually use a wet facial washcloth to rinse it off with, but when when I've rinsed with just water, I feel no residue. It rinses completely clean.
My skin has never felt so fresh and so clean and I actually look forward to washing my face now!
Cons
No one product is perfect for everyone. The cons with the Squalane Cleanser for me are:
The tube is only 1.7 fluid ounces (50ml). It does now come in a larger size, but it's hard to find in stock.
You need to use a good amount to effectively remove all of your makeup, especially if you wear a full face.
As mentioned above, others have felt the product is too oily or that it's not effective on its own to remove makeup.
Final Thoughts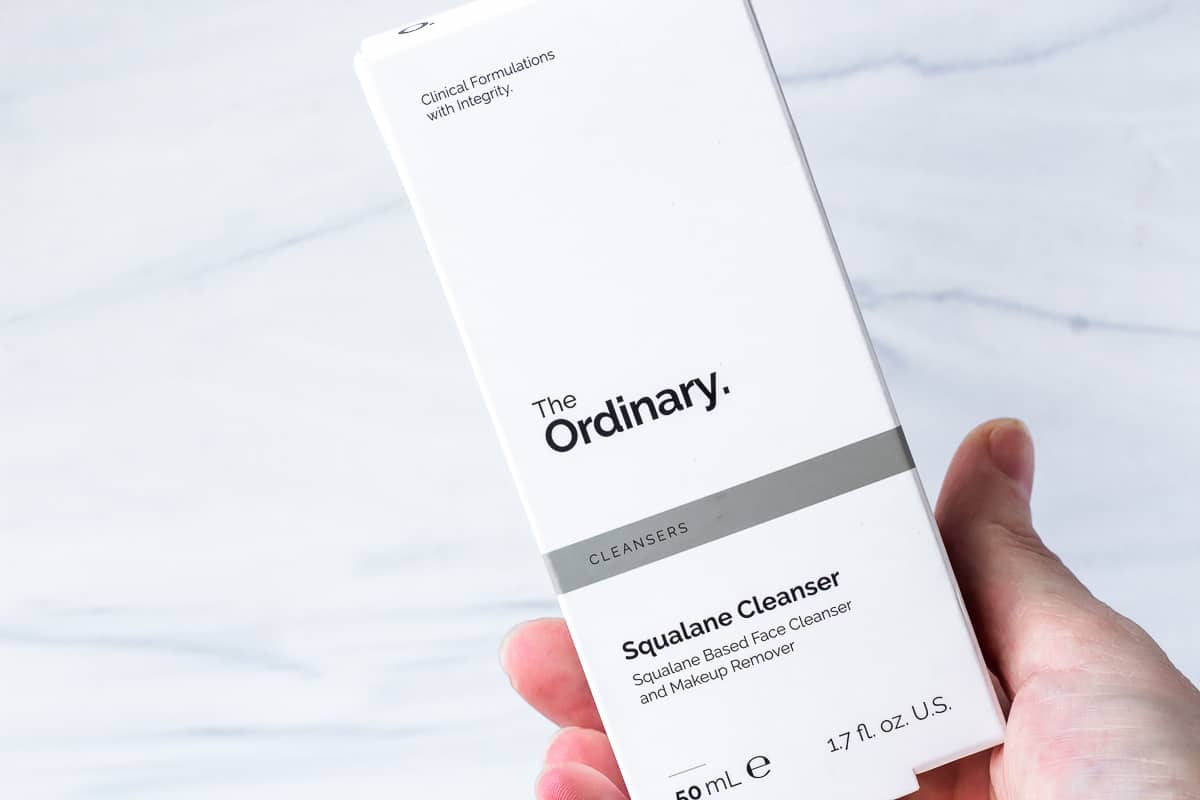 I'm not one to easily get excited about facial cleansing products. I definitely feel some work better than others at removing makeup. Personally, I prefer to use a single product that removes makeup and leaves my skin feeling amazing afterwards.
I'm 100% sold on The Ordinary Squalane Cleanser. It is now my go-to facial cleanser, though I will still be testing out other products, of course.
I absolutely recommend trying this product.
Where To Buy
You can buy The Ordinary products, including the Squalane Cleanser, at the websites below:
More The Ordinary Reviews
This is the first product of many that I am testing from The Ordinary.
You can check out my post on the 10 Best The Ordinary Products to help you decide which other products from this brand may work for you.
Follow Me
Enjoy this The Ordinary Squalane Cleanser review? Follow me on Instagram, Pinterest, Facebook, and YouTube for more!