A comprehensive review of The Ordinary Caffeine Solution 5% + EGCG. Learn about the benefits of using a caffeine solution, how it works and where you can purchase this product.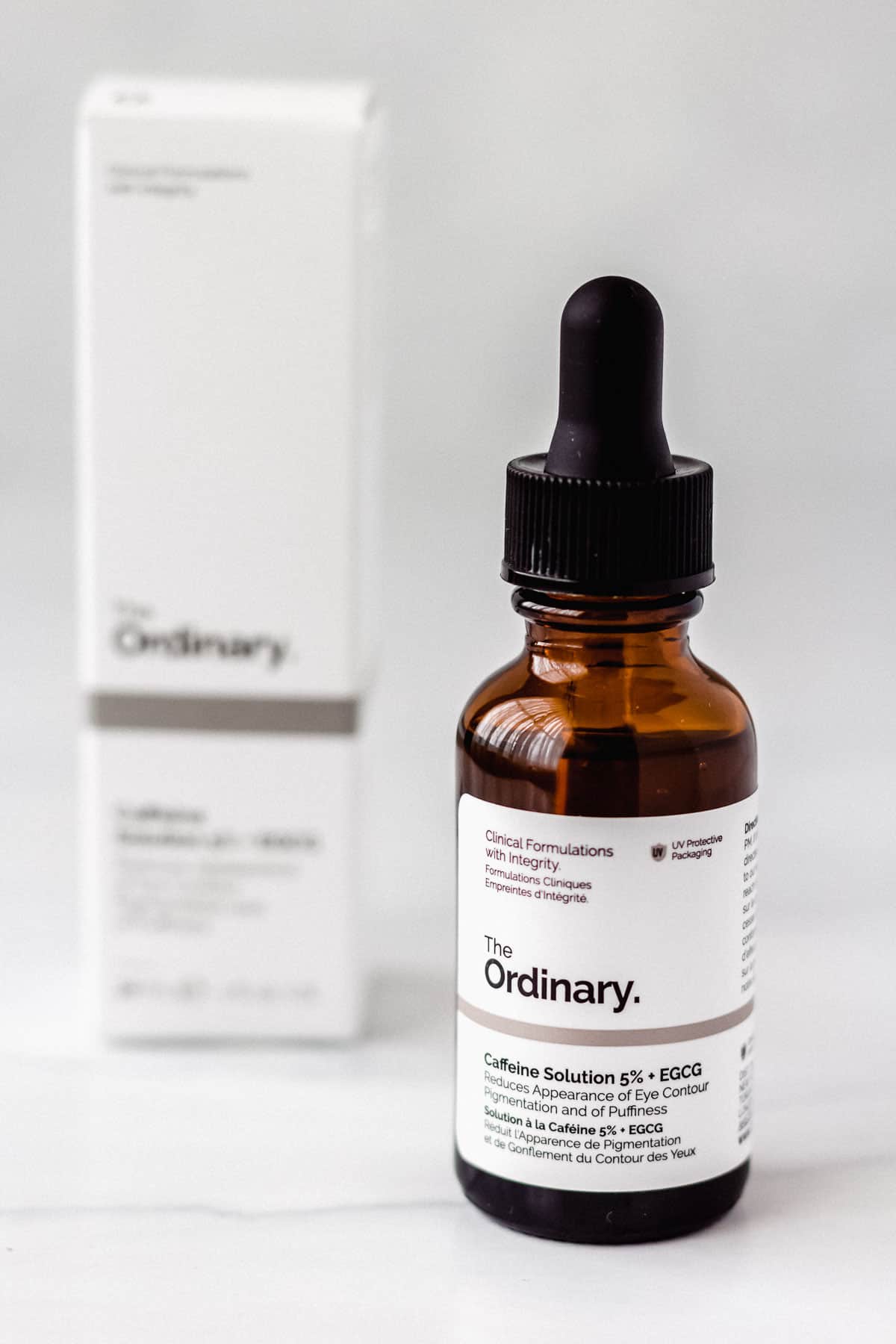 This post contains affiliate links. See our Disclosure Statement for more information.
Caffeine Solution 5% + EGCG from The Ordinary is a topical under eye solution meant to reduce puffiness and pigmentation.
Epigallocatechin Gallatyl Glucoside, also known as EGCG, is derived from green tea leaves. When used with caffeine, studies have shown it to be effective at reducing the appearance of dark circles and puffiness under the eyes.
On EWG's Skin Deep Cosmetics Database website, this product is rated a 1, which falls into the green, or low hazard, category.
It should not be used by those who have sensitive skin, as some reviews have reported irritation. It is also noted on Deceim's website that this product will not help with eye contour shadowing, hereditary dark circles or puffiness caused by fat deposits under the eyes.
Directions state to use a small amount in the eye contour area in the AM and PM.
Benefits of Caffeine Solution 5% + EGCG
The benefits of caffeine solution 5% + EGCG include:
reduction in the appearance of dark circles under the eyes
reduction in the appearance of under eye puffiness
caffeine may reduce the appearance of cellulite
My Review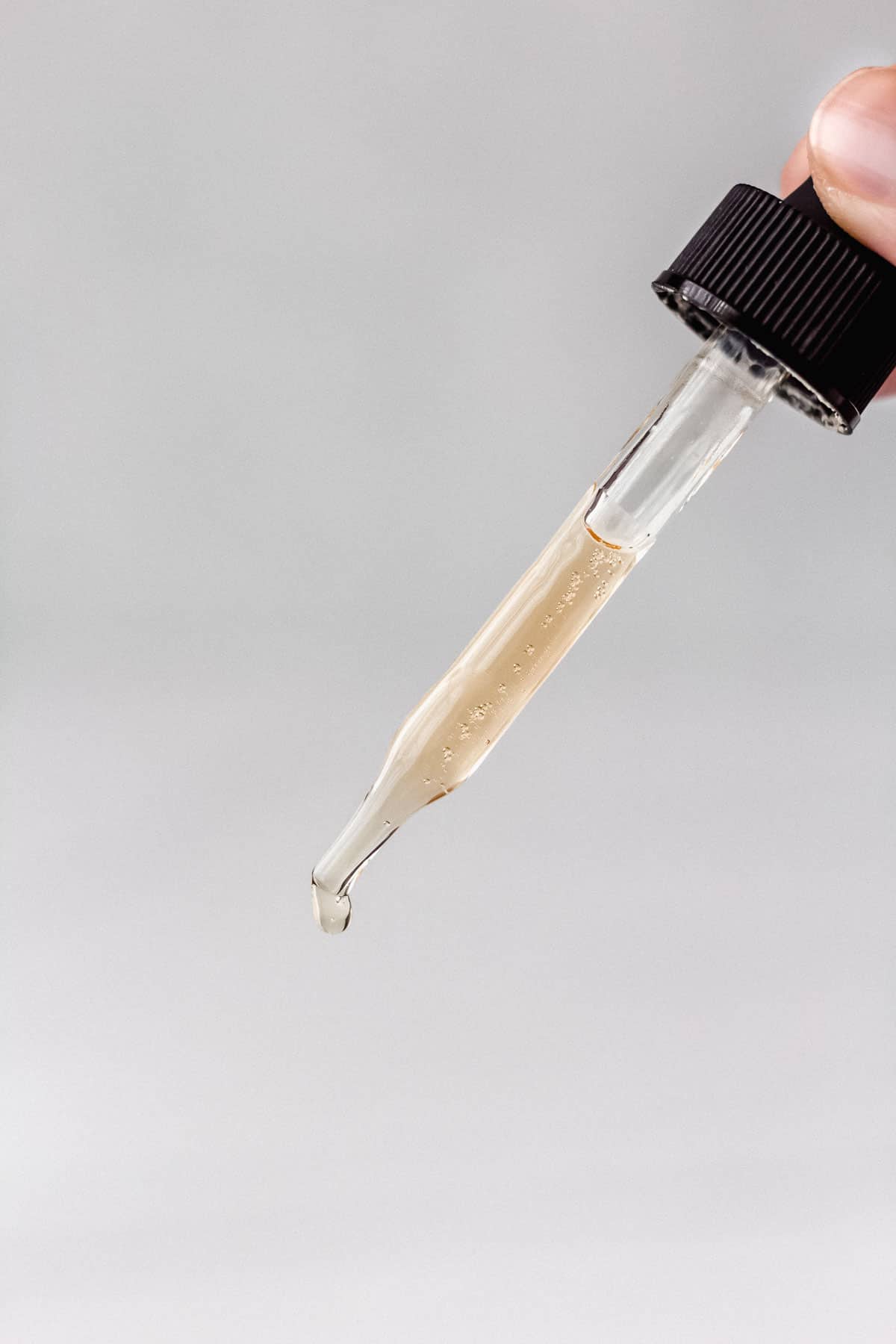 The reviews on this particular product are a bit lower than most of the other products from The Ordinary that I've looked into. I believe this is largely in part to the fact that some under eye issues are hereditary or simply shadowing from the contour.
However, there are some very positive reviews and some reviews that aren't so positive. Some state the product caused sensitivity or that the formula didn't feel good on the skin.
My Skin Type
I have normal to combination skin. I do get a tad oily, mostly around my nose. There are visible pores on my nose and cheeks. I do not get blemishes often.
There is a larger dark spot on one check and some smaller spots or freckling around my eyes. I also have several areas of melasma under my eyes and on my cheeks.
I'm 42 with only slight fine lines around my eyes that become more visible when I smile. I am also noticing a decrease in firmness lately.
There are dark circles under my eyes and especially in the inner corners of my eyes. I have occasional puffiness that I believe is diet-related more than anything.
How I Use Caffeine Solution 5% + EGCG
I honestly did not use the Caffeine Solution 5% + EGCG for very long.
When I did use it, I used it in the morning and in the evening, as instructed. I also used an under eye cream with it, as well.
I had no irritation on my skin or with my eyes at all when using this product.
However, this product left the skin under my eyes feeling stiff and sticky. It was almost as if a facial mask had dried on my skin and would crackle and crease when I smiled. This made fine lines very obvious.
It seems that even though I used just a small amount, my skin just didn't absorb it. I have seen other reviews that state they felt it was drying or left a sticky texture on the skin. It's likely that it's all the same kind of issue but just a bit hard to explain.
I don't think I'd have much luck with this product anyway, as I am pretty convinced at this point that my under eye circles are hereditary.
Cons
No one product is perfect for everyone. For me, the texture and feeling that developed when using this product was annoying enough to make me decide to stop using it.
It also gets a little crusty around the lid with time.
Others have called this same exact product their "holy grail" because it has worked so well for them.
As always, I do still recommend trying this product. Products from The Ordinary are so budget-friendly that they are absolutely worth trying, so long as your skin isn't sensitive.
You never know, it could end up being your "holy grail" beauty product. And if not, you won't be out much money at all.
Where To Buy
You can buy The Ordinary products, including Caffeine Solution 5% + EGCG, at the websites below:
More Reviews of The Ordinary Products
This is the fourth product of many that I am testing from The Ordinary. You can see my other reviews of products from The Ordinary below:
Or check out the 10 Best The Ordinary Products to help you decide which other products from this brand may work for you.
FOLLOW ME
Enjoy this The Ordinary Caffeine Solution 5% + EGCG review? Follow me on Instagram, Pinterest, Facebook, and YouTube for more!