See some of the beauty products that you could receive in the September 2021 Boxycharm base box. Plus learn how Boxycharm works, and how you can easily sign up for this AMAZING beauty subscription yourself!
This post contains affiliate links. See our Disclosure Statement for more information.
My September 2021 Boxycharm base box is here.
The base box items are typically a mix of a few well known or high-end brands with a lot of lesser known, lower value items making up the bulk of the potential items you could receive.
When I looked over all of the potential items, I knew this box wasn't going to be a favorite for me. I wasn't super interested in most, if not all, of the other potential items.
I've been surprised many times before, so I'll try to hold off too much judgement until I try the products, but this one is just lackluster, except for my choice item.
Below is all about how Boxycharm works, but if you are already familiar and just want to see the products, skip on down to the September 2021 Boxycharm Review heading.
What Is Boxycharm?
Boxycharm is a monthly beauty subscription. They send a variety of skin care, hair care, and makeup products and tools each month.
How Does Boxycharm Work?
This is where things get a little bit confusing, so I will try to break it down and make it easy to understand.
Boxycharm has 3 different types of boxes, their regular monthly base box, a premium monthly box, and a luxury box that is only available quarterly.
Initially, I wanted to only sign up for the premium box. I kept seeing a button for "Join The Waitlist" but every time I clicked it, it took me to the page to sign up for the regular monthly box.
As it turns out, you have to be a subscriber to the monthly base box in order to be able to add-on the Premium box. That's right, you will get two different boxes each month – each with it's own cost (more on that in a minute). You can cancel the base box subscription after the first month of getting both boxes.
BoxyLuxe is a luxury box available every 3 months. You pay an additional fee to upgrade your base box to a luxury box. More details on this box are below.
How Much Does Boxycharm Cost?
Here's a quick breakdown of each box, how much it costs, and what you can expect to get.
BoxyCharm Monthly Base Box: this box is $24.99 a month. You will receive 5 full size beauty products, one of which you get to choose, with a value of at least $120.00. There is a huge variety of brands from lesser known brands to very popular brands. There are also many box variations each month, so what I have in my box may be completely different from what you will receive.
BoxyCharm Premium: to get this box, you must be subscribed to the base box for $24.99/month, then join the waitlist for Premium. Once you are activated from the waitlist, you pay an additional $35.00/month for this box. There is a note that you can cancel either your base box or Premium box at anytime after the first month of being subscribed to both. The Premium box has 6-7 full size beauty products, two of which you get to choose, with a value of at least $175.00.
BoxyLuxe: this is a quarterly box that replaces your base box if you choose to upgrade. The cost is an additional $25.00. You will get 8-9 full size beauty and lifestyle products, with the ability to choose up to 2 products. The value of this box is at least $250.
All of the boxes are eligible for add-on's, access to the pop-up shops, and rewards for reviewing the products that you receive in your box each month.
It seems as if there is frequently a bonus for new subscibers, you can check out the current offers on the BoxyCharm website sign up page.
September 2021 Boxycharm Unboxing Video
I should be back to making videos very soon!
September 2021 Boxycharm Review
GLAMGLOW Youthmud Glow Stimulating & Exfoliating Treatment Mask ($60.00)
I chose the GLAMGLOW product this month because it's one that I've used in the past and really liked. This is the first time I actually have a full size jar.
This is one of those masks where you can literally see the oil being pulled out. I only use it on the areas of my face that get a bit shinier throughout the day so that I don't dry out the other areas.
It also has a texture to it to exfoliate which works really well for me, but I don't have sensitive skin. I imagine it may be a little rough for those who are more sensitive.
The other choice item was:
This product is made in the USA (yay!).
Georgette Klinger Marula Primer ($32.00)
It's pretty funny that I got this primer after I just said in my September Premium Review that Boxycharm loves to send me all the primers.
I'm really not interested in keeping this product, but I do like that it's made to work with oil-based foundations.
I've been using the Kosas Tinted Face Oil the last several months. I like it, but it really doesn't play well with a lot of other products and I'm wondering if this primer would pair better.
Still, I doubt I'll keep it. I just have too much right now.
This product is made in the USA (yay!).
Half Caked Best Friends Forever – In Bloom + Duo Fiber Brush Set ($22.00)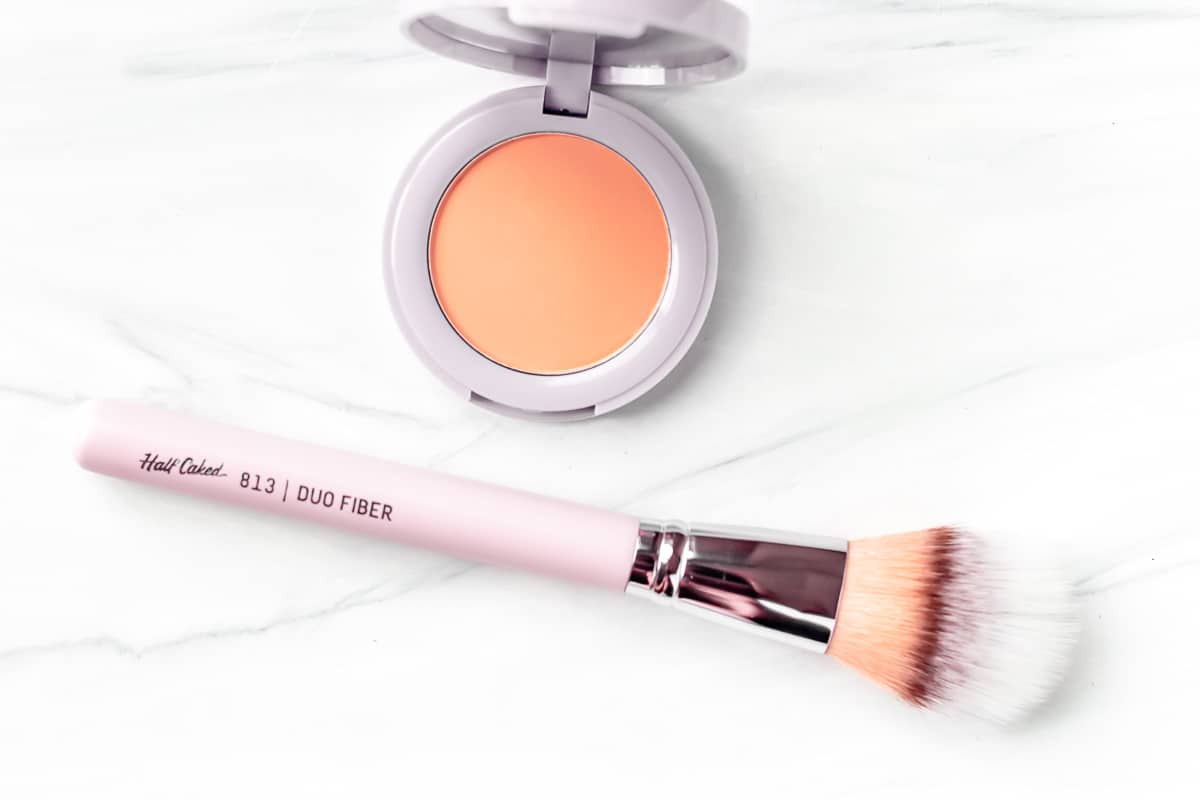 Honestly, I thought this was just another brush set, but it's actually a "blush" and a brush set.
I can't call this a blush. It's much, much closer to a skin tone, yet the description says it will give you the perfect flush. The shade is called Me & U and it is available on their website even though it states on the card it's a Boxy Exclusive.
The brush looks and feels cheap, as does the packaging. This isn't really a surprise since it's a "Boxy Exclusive" and made in China.
I won't be keeping this item either.
This product is made in China.
Pinky Rose Cosmetics Multi-use Make Up Base Sticks ($20.00)
Another Boxy Exclusive, made in China product.
This is a set of 2 multi-use makeup sticks that can be used on the eyes, brows, lips or face.
I have zero interest in this product. The brand is unfamiliar to me and feels cheap and I don't use this type of product so it's a lose-lose for me.
This product is made in China.
Realher Moisturizing Lipstick ($18.00)
This may be the saving grace of the additional items in this box other than my choice item.
Do I need another lipstick? No.
Is this a well-know, reputable brand? Not to me, although I have received a couple products by them before. I'm not sure I've used any yet though.
But, I like the color. It's called No Filter and is described as a deep nude. It could be a great color for fall.
This product is made in China (although the packaging is much nicer).
Final Thoughts
This box is definitely a disappointment. The theme was BTS (Back to School) and it definitely felt like most of the products might appeal more to teenagers.
The retail value of this particular box variation is $152.00 according to the values listed by BoxyCharm. Thankfully, I only spent $25.00 for this box.
I plan to keep the GLAMGLOW and will give the lipstick a try. Combined they are valued at $78.00. Even with 3 items that I absolutely don't want, it's still a good deal.
I think I'm pretty set on canceling, but I am waiting for a month where I don't want any of the choice items and that's not happening in October. Boxy really knows how to keeps us hanging on!
October 2021 Boxycharm Base Box Choice Items
The October 2021 Boxycharm Base Box Choice Items are:
GLOW RECIPE Watermelon Glow Niacinamide Dew Drops
BEAUTY BAKERIE Milk & Honey Highlighting Palette
TARTE Wink of H₂O Vegan Collagen Eye Cream
If Boxycharm would just have all choice items I have zero interest in, it would really help me pull the trigger on cancelling, but no. They keep me here with Glow Recipe.
I received the Beauty Bakerie palette in my premium box this month, so it's a little annoying it's one of the choices. Between the other two, the Glow Recipe was a no-brainer for me.
I've been reviewing their products the last few months and they are all really great. So far I've tried Glow Recipe Banana Soufflé Moisture Cream, Glow Recipe Papaya Sorbet Enzyme Cleansing Balm, Glow Recipe Avocado Melt Retinol Sleeping Mask and Glow Recipe Plum Plump Hyaluronic Serum.
How To Subscribe To Boxycharm
You can sign up for a Boxycharm subscription on BoxyCharm's website. Be sure to take advantage of any current free gifts with your new subscription. If you're interested in BoxyCharm Premium, make sure that you join the waitlist so that you can be activated as soon as possible.
Past Boxycharm Reviews
Want to see more of what you can expect from a Boxycharm subscription? Check out some of my past Boxycharm reviews:
I hope you find this September 2021 Boxycharm Review helpful. Follow me on Pinterest, Instagram, and Facebook for more fun beauty and lifestyle content. I've also have a YouTube channel where I am sharing unboxing videos, empties, and more!