See everything that came in the September 2020 Allure Beauty Box, a review of it all, and how you can sign up for an Allure Beauty Box subscription!
This post may contain referral links. See our Disclosure Statement for more information.
My September 2020 Allure Beauty Box showed up October 14, so it's still arriving super late.
I believe that full spoilers were November have already been released, so I feel super behind. I'm still going to do my review because I want to, even if it feels a little silly at this point.
Allure is also changing the box and the cost starting in October. The price is going up, but the amount of full size samples is as well. More on that below.
What Is Allure's Beauty Box?
Allure Beauty Box is a monthly beauty subscription box. They typically send deluxe samples and full size items in each box.
Each box will now contain at least 6 items (starting with the October 2020 box), with at least 3 of those now being full size. The value of the box will be over $100.
Items can include skin care, make up, perfume, and hair care products. They also include a small pamphlet with information about each product and why it was chosen.
Can You Customize Your Allure Box?
I have not seen any offers to customize any of the items in the monthly boxes.
How Much Does The Allure Beauty Box Cost?
The Allure Beauty Box is $15 a month, but is increasing to $23 a month in October 2020.
Monthly subscriptions usually come with a free gift.
You can also purchase the subscription through Amazon. It does not seem as if you'll get the free gifts this way, or other potential subscriber perks, but I have heard the boxes ship much faster through Amazon – IF you order early in the month.
September 2020 Allure Beauty Box Review
Wander Beauty Unlashed Volume and Curl Mascara – (Full Size $24.00)
I don't get excited for mascara. I am a diehard fan of Voluminous Carbon Black by L'Oreal, but get so many samples, I rarely buy it.
I have a bunch of mascara to work my way through before I'll actually get to try this one out. I'm hoping someday I'll like one as much as my tried and true favorite.
Cleo Noir Twist Up Eyeliner – (Full Size $18.00)
The box, nor the pencil itself, has a color listed on it, so I'm just going to call it purple.
It's actually a dark purple – you can see the color a bit better in the last photo below.
I'm not sure I'll get much use out of this particular color, but since it's so dark, I'll definitely give it a try. I do love jewel tones in fall.
Elemis Pro Collagen Cleansing Balm – (Deluxe Sample $12.00)
I love cleansing balms so I was really happy to see this item and the fact it's not a tiny little jar is a huge plus!
I've tried a few other skincare items from Elemis and have loved them all. It's a higher end brand and expensive, but they really do put out good stuff.
Waterless Dry Conditioner – (Deluxe Sample)
I have never heard of dry conditioner before. I'm a little unsure what to think of this.
I have been trying to go longer and longer between washes, but never really add anything for moisture except the tiniest bit of a hydrating cream once in awhile.
I'm going to try this conditioner the next time I feel that my ends are in need of a little hydration and see how it works. I'm hoping it doesn't end up looking too oily.
Elf Highlighting Brush – (Full Size $4.00)
You could get this highlighter brush from Elf or a contouring brush from NYX worth $14.00.
I don't mind Elf products, but I have no need for this particular brush.
I'll include it in a giveaway soon!
La Roche-Posay Anthelios Light Fluid Sunscreen – (sample size)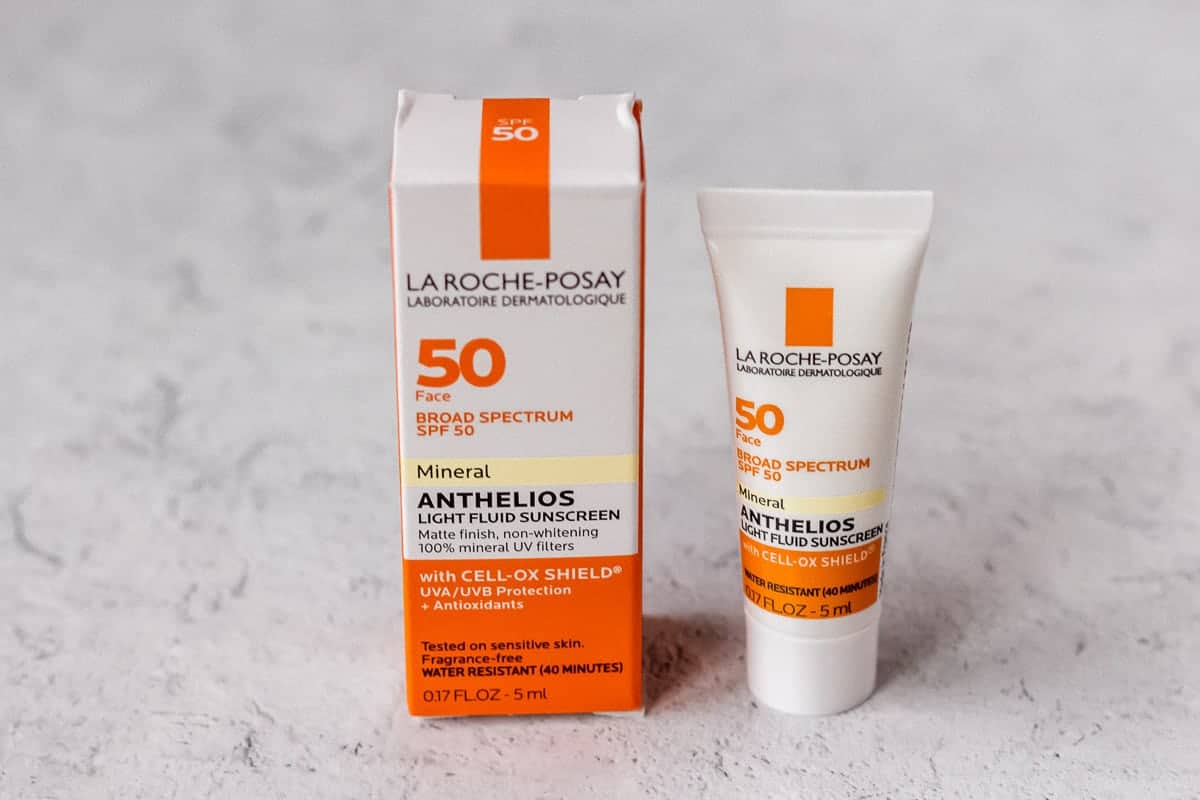 This sunscreen sample is tiny. I actually hate getting super tiny sunscreen samples.
I know you're supposed to wear sunscreen every single day, but I don't. I don't go out much lately except to take my kids to school and pick them. Or, I'm out when the sun is going down.
I'll add it to our never-ending sunscreen stash!
Glam Up Soothing Aloe Sheet Mask – ($4.20)
Ah, the usual sheet mask that Allure includes in every single box. Kinda stinks when you don't like sheet masks. I'd much prefer to slather something all over my skin.
You could get this mask or a Revitalizing Sake mask from the same brand.
I don't like these types of masks regardless, so I'll definitely include this in a giveaway soon.
Final Thoughts
This box is another so-so box for me, personally.
Allure hasn't been blowing me away lately. I don't know most of the brands or don't have much use for most of what comes. Every once in a while there is a product that I end up loving though.
I'm pretty sure I am going to cancel my subscription for now. I just have way too many products to use up, don't care for a good portion of what Allure has been sending lately, and really can't justify the price increase at this time considering the first two reasons.
I definitely have fear of missing out, so who knows how long my cancellation will last – ha!
How To Subscribe
If this review has you ready to join Allure too, you can head over to the Allure Beauty Box website or sign up for a subscription through Amazon.com.
If you subscribe through the Allure website, you will get a free gift. Should you choose to go through Amazon, be sure to sign up early in the month so that you don't get your boxes in the middle of the next month like I do!
Enjoy this September 2020 Allure Beauty Box review? Follow me on Instagram, Pinterest, and Facebook for more!