Learn more about Skin Inc. and the My Daily Dose of Uplift serum. I share exactly how I use it, the results I have experienced and where you can purchase the product should you decide to try it.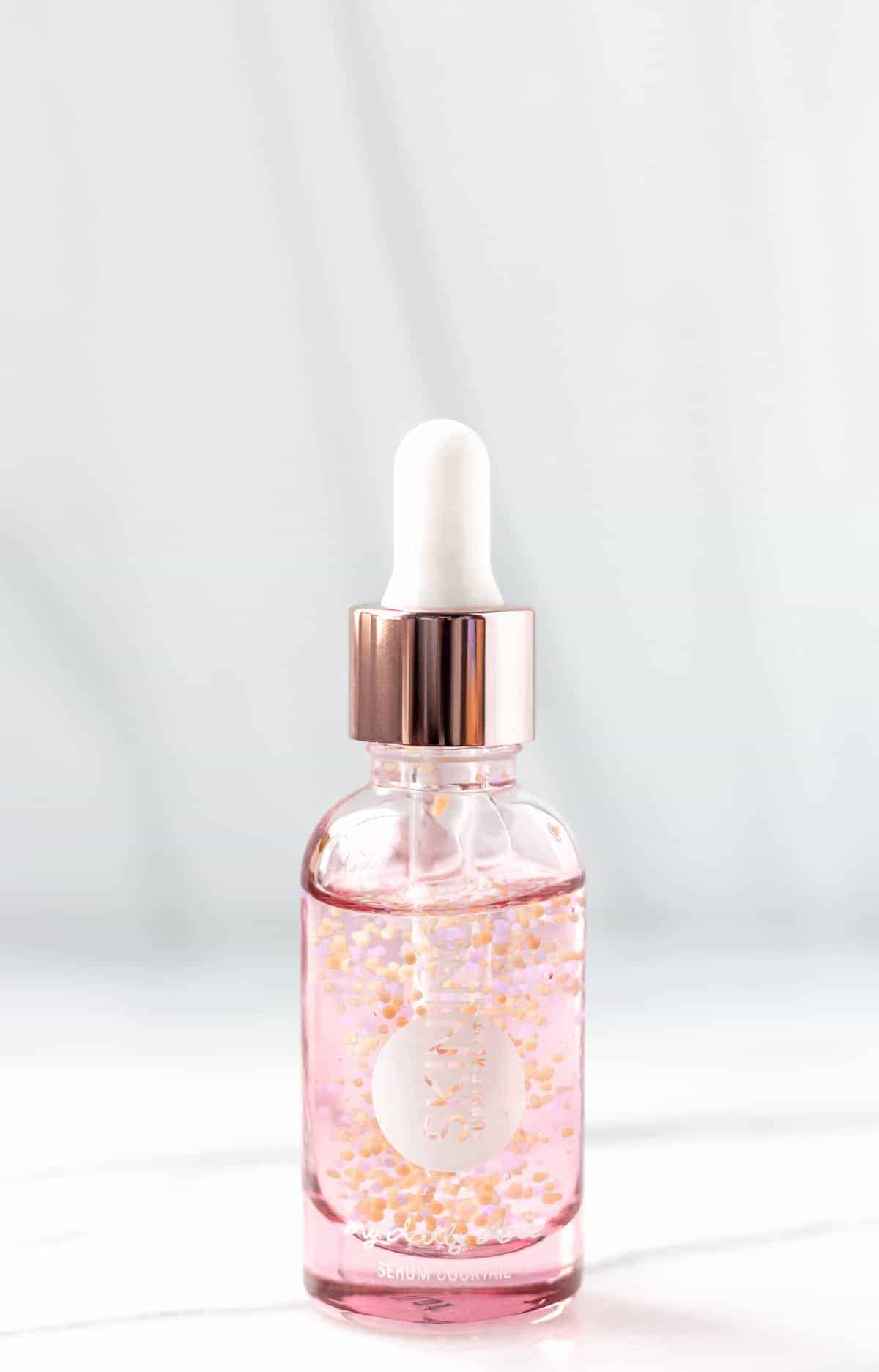 This post contains affiliate links. See our Disclosure Statement for more information.
With so many different skin care products on the market, it can be really overwhelming to decide which ones you should invest in. Especially when it comes to higher costing products.
It wasn't until recently, when I first reviewed another Skin Inc. product, called My Daily Dose of Glow, that I even knew that I should be using a serum AND a moisturizer. I used to just use on or the other, assuming they both did the same thing. They don't – more on that later.
I recently received a full size bottle of Skin Inc. My Daily Dose of Uplift serum and have been using it as instructed for the past month.
Below I will discuss more about the brand, the product itself, the results I have experienced and where you can purchase the product should you decide to try it.
About Skin Inc.
Skin Inc. is a skincare company with a presence in the United States, Asia, and Europe.
The products are made in Japan using a Japanese technology for the process of encapsulating the ingredients to maintain freshness and effectiveness.
They develop products that can be used by anyone, as well as custom blends that are created based on your own skin's needs.
Their product line includes cleansers, exfoliators, moisturizers, serums, treatment masks, and skincare devices.
My Daily Dose of Uplift Review
What Is It?
My Daily Dose of Uplift is one of Skin Inc.'s pre-blended serums. It is designed to give aging skin a smoother, firmer, more youthful appearance.
It's a clear serum with tiny pink and blue molecules suspended in it.
There are 3 main ingredients in this serum:
Hyaluronic Acid: these are some of the little hydrolyzed molecules you can see floating in the clear serum. Hyaluronic acid hydrates the skin and reduces the appearance of fine lines and wrinkles.
Collagen: marine collagen contributes to suppleness and firmness of the skin.
Coenzyme Q10: this is an antioxidant that can be found naturally in your body. It helps improve the appearance of wrinkles.
Who Is It For?
This serum is especially beneficial to those with aging skin, however, it's never too early to use products like this serum for preventative purposes.
How I Used It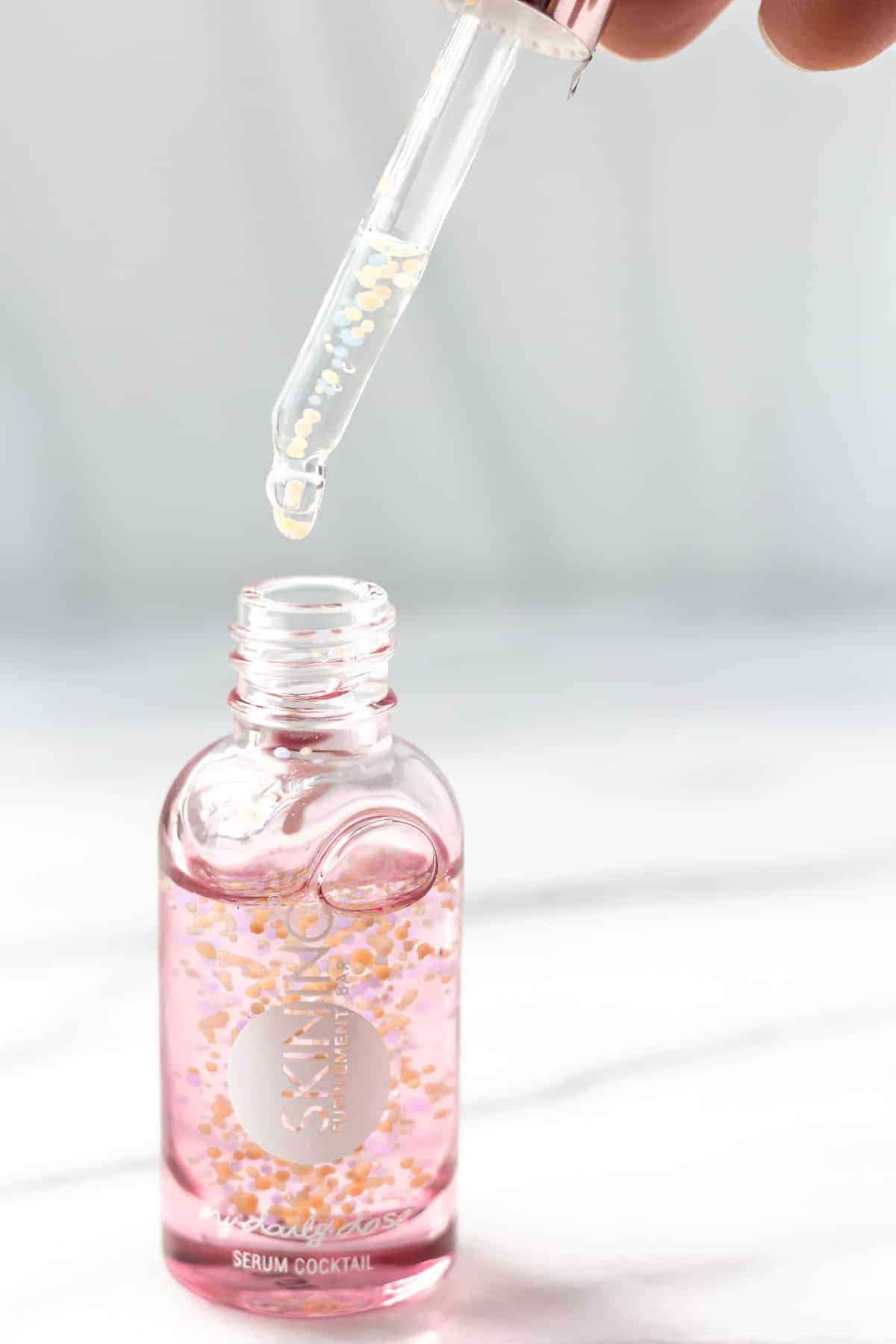 According to the directions on the package, 3 drops of this serum should be used twice a day before moisturizing.
What's the difference between a serum and moisturizer? I dug deeper into this when I first reviewed another one of Skin Inc's products because I initially felt that I was putting too many different things on my skin.
Basically a serum is more of a treatment. Think of it as a dose of vitamins. These are lighter and more readily absorbed into the skin. Which serum you choose should vary depending on your own skin's needs.
A moisturizer is a thicker cream meant to seal in moisture and hydrate the skin.
So, I followed the directions by applying 3 drops onto clean skin, then after it was absorbed, I followed with moisturizer and eye cream. I did this twice a day for a month.
Full disclosure: other skincare products that I used during this treatment period include:
My Results
Unfortunately, there are no studies listed on the Skin Inc. website that claim participants experienced certain results. This leaves me with nothing to compare my own personal results with.
Does my skin feel smoother? I would say yes, but I do have very smooth skin to begin with so I may not be the best judge of this particular claim.
As far as the the claim that this serum cocktail will firm skin, I completely agree. The serum absorbs very quickly and my skin almost instantly felt more firm. However, I would not say it felt or looked "lifted."
I am definitely at an age where I could use a little lift, but in general, this serum does improve the overall look and feel of my skin.
I was only able to get a months use out of this serum, using it twice a day as instructed. It absorbs very quickly and I didn't feel that 3 drops was quite enough to cover my entire neck thoroughly.
I have a second bottle that I plan to use immediately following this one so I will edit this review if any there are any further noticeable results.
Overall, I am happy with this product. For my skin type and current condition, I do think the My Daily Dose of Glow serum is a better fit for appearance purposes, but that the My Daily Dose of Uplift is more of a long term preventative serum.
How Much Does It Cost?
Skin Inc.'s products do fall into the mid to high range for price for skincare products.
The retail price of the My Daily Dose of Uplift serum is $65.00. If you only use 3 drops, I'd estimate you will get about 4 weeks worth of usage, twice a day, from one bottle.
Where Can You Buy It
There are several places you can find Skin Inc. My Daily Dose of Uplift:
Amazon (only 1 left at the time of this post)
Enjoy this Skin Inc. My Daily Dose of Uplift Review? Follow me on Instagram, Pinterest, and Facebook for more!