See some of the beauty products that you may receive in the March 2021 Boxycharm Premium box, learn how Boxycharm works, and how you can easily sign up for this beauty subscription yourself.
This post contains affiliate links. See our Disclosure Statement for more information.
In typical Boxycharm fashion, last month's premium box was amazing and this months is just so-so for me.
When I looked at all of the items that could be in both the premium and the base box, not much was really interesting to me. In fact, a lot of the items are products that I've already received. It might be a clean-out month for Boxycharm maybe?
I am happy to report that my premium box did arrive before my base box and that shipping has somewhat returned to "normal," at least for me. Also, I did not receive any products that I've already received, so they really do do a good job at sending you new-to-you products.
I'll explain exactly how BoxyCharm works below, as well as share a complete review of my BoxyCharm Premium box. If you already know the deal, skip on down to the March 2021 BoxyCharm Premium Review heading.
What Is Boxycharm?
Boxycharm is a monthly beauty subscription. They send a variety of skin care, hair care, and makeup products and tools each month.
How Does Boxycharm Work?
This is where things get a little bit confusing, so I will try to break it down and make it easy to understand.
Boxycharm has 3 different types of boxes, their regular monthly base box, a premium monthly box, and a luxury box that is only available quarterly.
Initially, I wanted to only sign up for the premium box. I kept seeing a button for "Join The Waitlist" but every time I clicked it, it took me to the page to sign up for the regular monthly box.
As it turns out, you have to be a subscriber to the monthly base box in order to be able to add-on the Premium box. That's right, you will get two different boxes each month – each with it's own cost (more on that in a minute).
BoxyLuxe is a luxury box available every 3 months. You pay an additional fee to upgrade your base box to a luxury box. More details on this box are below.
How Much Does Boxycharm Cost?
Here's a quick breakdown of each box, how much it costs, and what you can expect to get.
BoxyCharm Monthly Base Box: this box is $24.99 a month. You will receive 5 full size beauty products, one of which you get to choose, with a value of at least $120.00. There is a huge variety of brands from lesser known brands to very popular brands. There are also many box variations each month, so what I have in my box may be completely different from what you will receive.
BoxyCharm Premium: to get this box, you must be subscribed to the base box for $24.99/month, then join the waitlist for Premium. Once you are activated from the waitlist, you pay an additional $35.00/month for this box. There is a note that you can cancel either your base box or Premium box at anytime after the first month of being subscribed to both. The Premium box has 6-7 full size beauty products, one of which you get to choose, with a value of at least $175.00.
BoxyLuxe: this is a quarterly box that replaces your base box if you choose to upgrade. The cost is an additional $25.00. You will get 8-9 full size beauty and lifestyle products, with the ability to choose up to 2 products. The value of this box is at least $250.
All of the boxes are eligible for add-on's, access to the pop-up shops, and rewards for reviewing the products that you receive in your box each month.
It seems as if there is frequently a bonus for new subscibers, you can check out the current offers on the BoxyCharm website sign up page.
March 2021 BoxyCharm Premium Unboxing Video
Unfortunately, I am unable to do unboxing videos at this time. My hope for life to return to normal in time for this month's unboxing has not happened, but we are on track for a semi-normal April.
March 2021 Boxycharm Premium Review
Too Faced Hangover Primer ($35.00)
This Too Faced Hangover Primer is my choice item this month. I read somewhere recently that soon subscribers will be able to choose 2 items for their premium boxes. I'm really looking forward to knowing that at least 2 items will be products that I've chosen for myself.
I used to use a primer all the time, but since the world got flipped up-side-down, I haven't worn makeup as much and definitely got away from primer.
This primer is supposed to boost radiance and hydrate, as well as keep makeup in place all day long. A consumer study revealed that 100% of participants said their makeup went on smoother and looked more radiant and that their skin looked more hydrated and had the appearance of a full nights rest.
I'm excited to give this one a try!
This product is made in Italy.
Kypris Illuminating Eye Serum & Primer + Shimmer Palette Set ($145.00)
I've never heard of the brand Kypris, but that doesn't mean much. There are tons of brands that I've never heard of. However, for a product of this price range, I kind of do expect them to be well-known.
I also expect the quality to be super high quality and my first impression is that I am not seeing that at all.
Let's start with the eye serum & primer. It comes in a glass jar with a dropper-like cap. The serum was thick and separated upon opening. The bottle doesn't say to shake it first, but you absolutely have to.
The bottle says this product was made exclusively for Boxycharm, although the outer box does not say that anywhere.
I rubbed some on the back of my hand and it's definitely more of thick cream than a serum, in my opinion. I also don't feel that it's very moisturizing. Maybe it will work best as a primer?
The palette also says that it was made exclusively for Boxycharm. It's made of what feels like cardboard with a magnetic closure. There are 5 very shimmery, but very pretty, shades inside.
It's hard to see in the photo, but the white shade is halfway popped out of the palette and the silver shade almost looks like it's been rubbed.
For $145, I expect more than what I'm seeing with this product so far. I will update this more once I've used it on my eyes.
This product is made in the USA.
Beauty Diva London Diva Eye Brush Set ($48.00)
I believe that this eye brush set is the third set of eye brushes that I've gotten from Boxycharm in less than a year. I would love to get more face brushes, but am definitely not in need of these.
They are really cute though. The handles are pretty short and textured for good grip. The bristles are extremely soft. If I needed brushes I would definitely keep these.
I will either give them away, donate them or include them in a giveaway soon.
This product is made in PRC.
IGK Prenup Instant Spray Hair Mask ($32.00)
I've also never heard of the brand IGK, nor have I ever heard of a spray mask for your hair, but it sounds fun!
I actually thought you used this on dry hair, but that's not the case. You use it in the shower after shampooing.
It's made with Amia oil and cupuacu butter to deep condition and apple cider vinegar for shine. You can use it for just 1 minute, or up to 3 minutes for more intense conditioning.
It is made in California, USA.
Roen Beauty Kiss My Liquid Lip Balm in Charlie ($26.00)
I have been using plain lip balms and lip masks for the past few weeks as my lips have been extremely dry.
I love that this liquid lip balm is moisturizing, but with color. The shade Charlie is a nice, neutral pink that I can see myself wearing regularly.
Some of the ingredients are avocado oil, grape seed oil, coconut oil, mango and more.
This balm is made in the USA.
Dose of Colors Block Party Single Eyeshadow in Refelction ($20.00)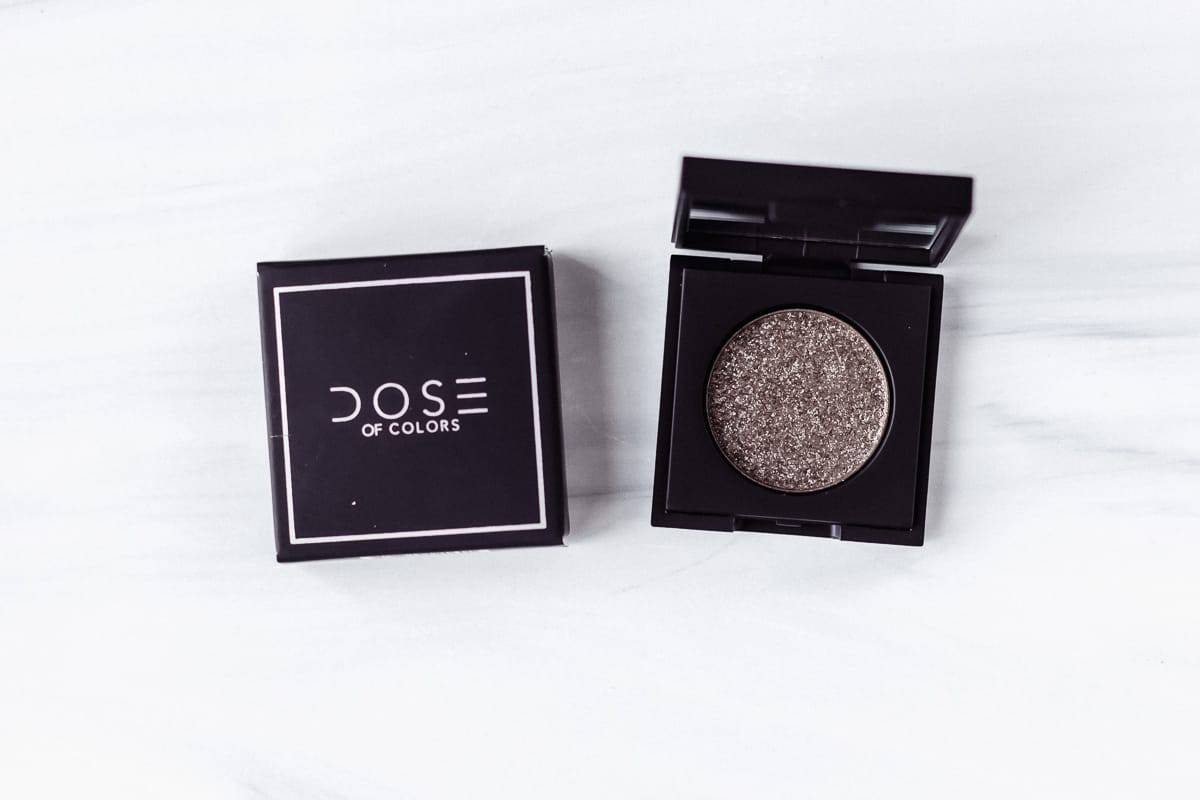 While I have received a Dose of Colors Block Party Single Eyeshadow from Boxycharm in the past, this is a different shade.
I expected the color "reflection" to be silver, but was pleasantly surprised to see it's actually a brown-ish shade with black and silver sparkles in it. It's a hard color to subscribe.
I haven't tried this shade, nor the previous shade that I've received yet. If I do, I'll update this section as to the quality.
This product is also made in the USA.
Final Thoughts
The retail value of my particular box is $306.00 which is amazing for a $35.00 box. Obviously, almost half of that value is from the Kypris primer and palette, which I personally feel is super inflated.
I'm not super excited for the items in this box, except for the primer. I'll also try the Kypris palette, hair mask and lip balm. I definitely won't be keeping the brushes and am on the fence about the eyeshadow because I have a ton of palettes.
The choice items for the April 2021 Boxycharm Premium box are:
Choice hasn't opened yet, but I'm leaning towards a NARS blush, depending on which colors are available, however, I'd be happy with any of these items.
There is also a second choice category for premium subscribers this month! The second choice items are:
I don't usually get excited for eyeshadow because Boxycharm sends SO much, but this palette is stunning! It really is filled with the perfect shades for warmer weather.
How To Subscribe To Boxycharm
You can sign up for a Boxycharm subscription on BoxyCharm's website. Be sure to take advantage of any current free gifts with your new subscription. If you're interested in BoxyCharm Premium, make sure that you join the waitlist so that you can be activated as soon as possible.
I hope you find this March 2021 Boxycharm Premium Review helpful. Follow me on Pinterest, Instagram, and Facebook for more fun beauty and lifestyle content. I've also have a YouTube channel where I am sharing unboxing videos, empties, and more!