Learn the basics about Malachite and its properties, the chakras and astrological signs it is connected to and the possible benefits you may experience by owning this gorgeous crystal.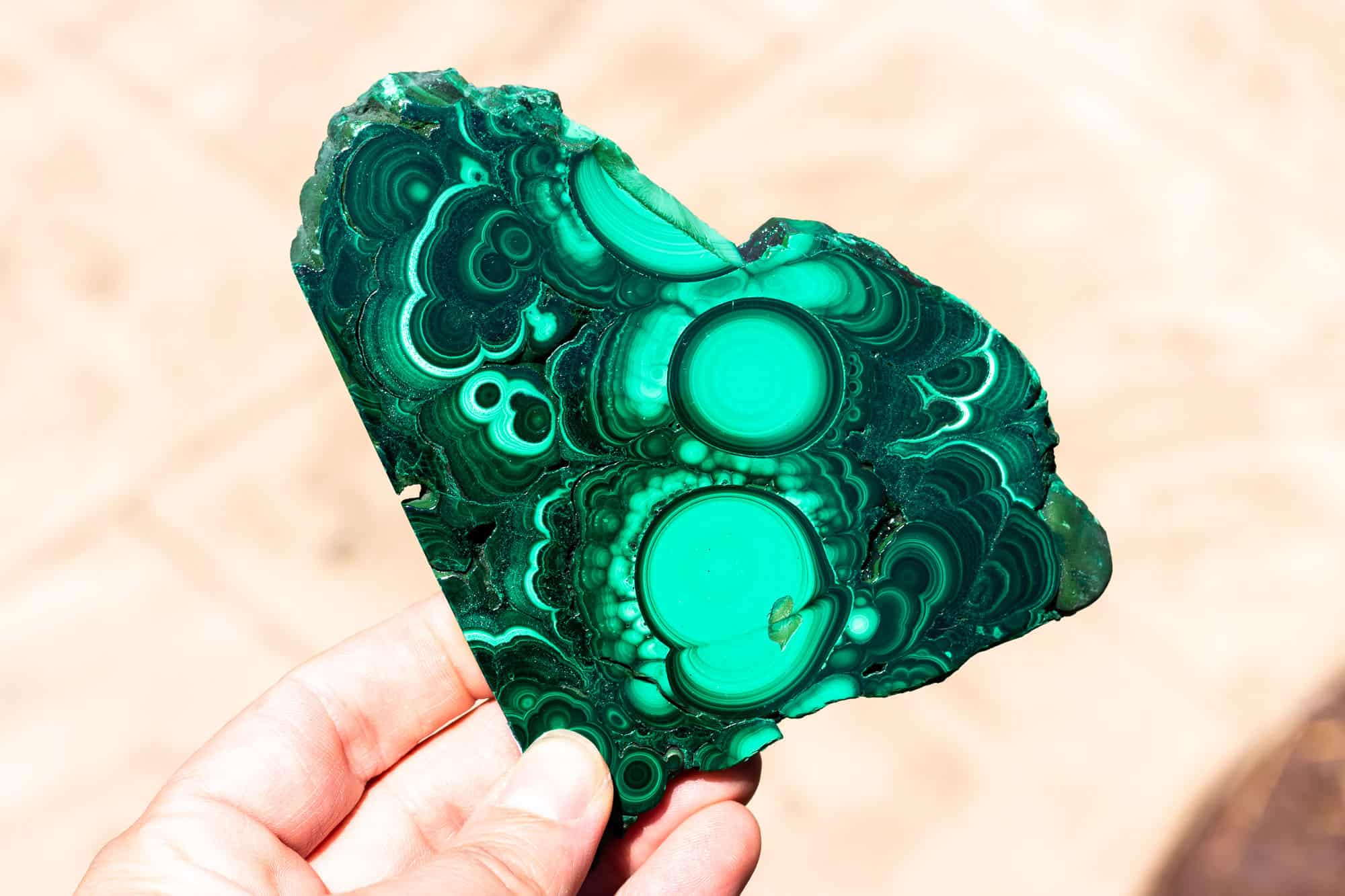 This post may contain affiliate links. See our Disclosure Statement for more information. The information in this post is not meant to diagnose, treat or cure any psychological or physical ailments.
Malachite is a very popular crystal. You can often find it cut into slices and polished to show off its absolutely stunning shades of green banding.
It is also commonly found in its natural rough state, which can sometimes look fibrous or resemble velvet. This gives way to its many names such as raw malachite, rough malachite, fibrous malachite and velvet malachite.
What Is Malachite?
Malachite is a green copper carbonate hydroxide mineral. Copper makes up more than half of its chemical composition. In fact, malachite was first mined for its copper ore. Its hardness is 3.5-4 on the Moh's Hardness Scale.
Today, Malachite is not a significant source of copper as it once was. It is now most commonly cut and polished into different shapes and beads for gemstones and has become an increasingly popular crystal to use for metaphysical purposes.
Malachite is found all over the world. While the largest malachite mine is in Russia, it is also mined from the Democratic Republic of the Congo, Zambia, Namibia, Gabon, Brazil, Australia and Mexico.
Is Malachite Toxic?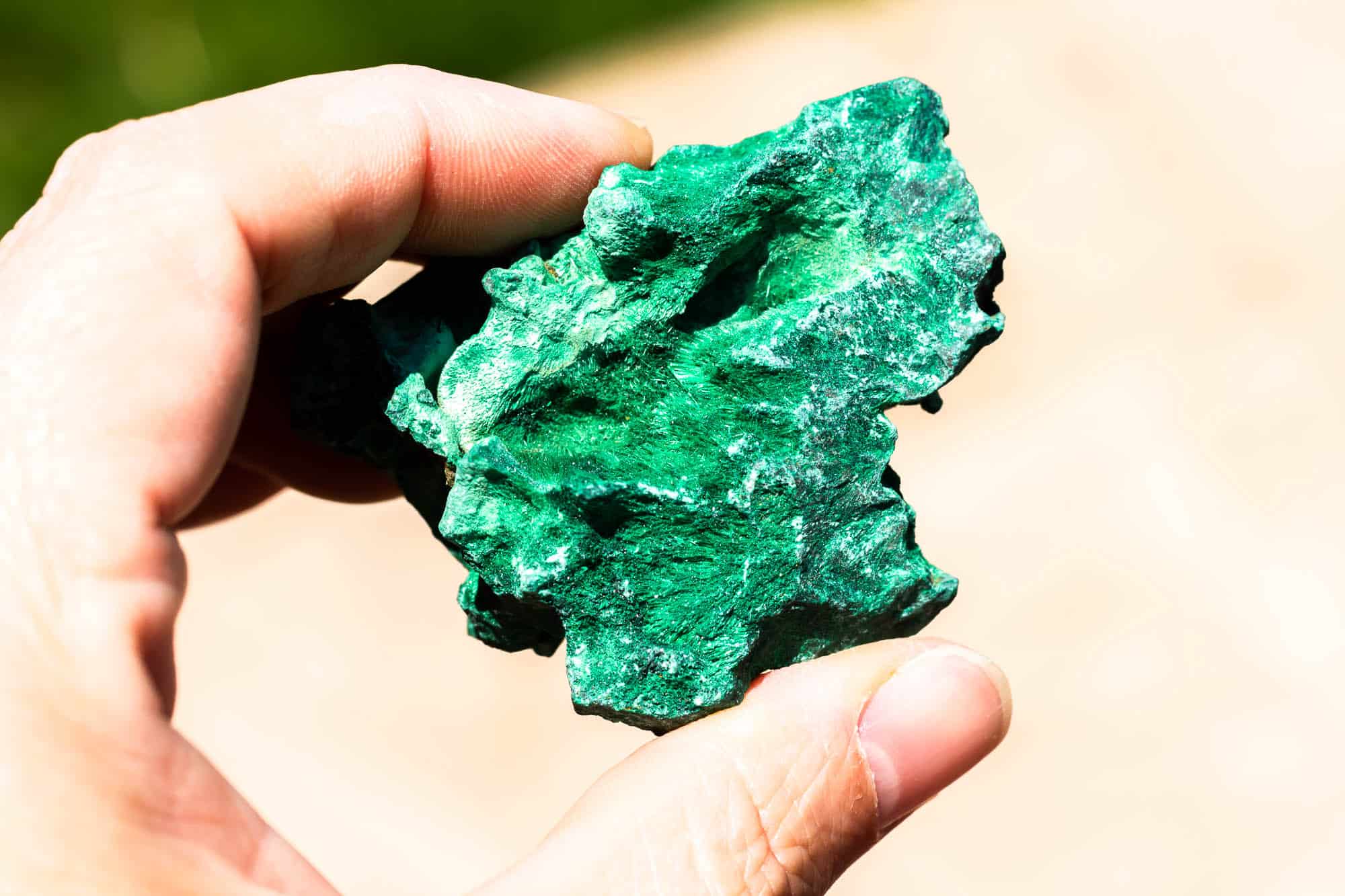 Because malachite contains a high percentage of copper, it can be toxic to humans.
However, it is primarily malachite dust that is forms when cutting and polishing it than can cause issues when inhaled, ingested or when left on contact with the skin. Precautions should be taken, such as wearing gloves, masks and goggles when performing lapidary work on malachite.
Malachite jewelry and polished malachite is safe to handle. You should use gloves or wash your hands after handling raw malachite just to be safe.
Do not leave malachite in water or drink malachite-infused water.
Chakras
Malachite is associated with the heart and throat chakras. It helps to align and balance these two chakras.
Its connection to the heart chakra will help you with both loving yourself unconditionally and allowing others to love you the same.
The connection to the throat chakra will help you speak your mind and your truth more freely.
Zodiac
Malachite is linked most strongly to the astrological signs of Capricorn and Scorpio. Agate is actually the birthstone for Geminis.
Benefits
Malachite has many benefits to the user. Some of the major benefits you may experience from this crystal are:
Helps clear negative energy
Increased protection by creating a barrier around you will also being very nurturing
Increased courage to speak your mind and to take risk
May increase wealth if kept with money
How To Care For Malachite
Malachite can be wiped with a soft cloth or very soft brush to remove any dust.
Cleansing malachite with water is not recommended due to its more delicate nature.
You can remove any negative energy by smoke cleansing your crystals with incense. They can also be recharged them with sunlight (for a short time only), moonlight or with other crystals like selenite and clear quartz.
Where To Buy Malachite
Crystals should only be purchased from reliable sellers who source their products consciously. There are many fake crystals on the market and unethical practices in sourcing these stones.
Be aware that malachite is one of the most common crystals to be found as fake. Artificial malachite looks more black and green typically with well defined banding.
We often have consciously sourced malachite for sale in our Etsy store, on our sister site, Jaxy Crystals, and during our live sales on Tiktok.
Enjoy this Malachite 101 post? Follow me on Pinterest, Instagram, and Facebook for more beauty and lifestyle content.