The fall 2020 FabFitFun subscription box is full of fun, useful items perfect for the season! Check out my review as well as all of the potential items you may receive (plus a ton of add-ons) if you sign up for your own box. It's only $49.99 for over $300 worth of awesome stuff!
This post contains affiliate links. See our Disclosure Statement for more information.
I look forward to my seasonal FabFitFun subscription box every season. The summer and fall boxes are usually my favorites.
I am an annual member (rather than a seasonal member) which means that I'm able to choose most of the items in my box with the last few being surprises. Annual members also get first picks and access to add-on's before seasonal members. This season, I really took advantage of the add-on sale.
More information on that below.
For those not familiar with FabFitFun, I'll try to explain how it all works and answer any questions you might have. If you already know the deal, then skip on ahead to check out all of the items!
What is FabFitFun?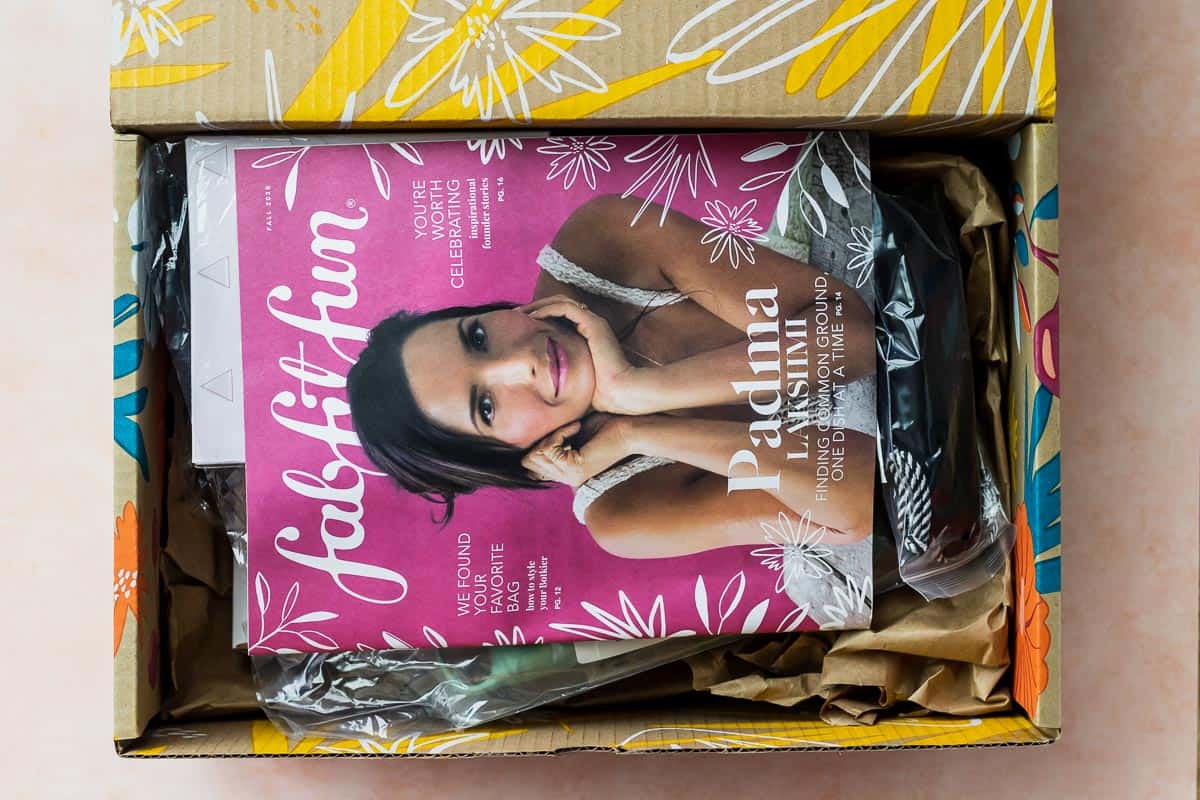 FabFitFun is a women's lifestyle subscription box that ships quarterly. Each box is curated for the season and contains fashion, beauty, home, travel, fitness, food items, and more!
Each season, they also include a magazine explaining all of the items and how to use some of them. It's actually one subscription box insert that I find really helpful and enteraining.
Can I Customize My FabFitFun Box?
Yes, there are multiple ways to customize you box including the standard box choices, adding on box choices, and by shopping add-on's and the new Boost My Box that they are testing out.
Just be aware that customization closes before boxes start to ship so you may have to wait until the next box to be able to customize.
Standard Box Choices
Each quarter, subscribers get to choose some of the items they will receive. If you become an annual subscriber, you get to customize your box even more. Seasonal members usually get to choose items from 3 categories, while annual subscribers typically get to choose from 5 categories.
Additional Box Choices
I also love that most quarters, FabFitFun allows you to add on additional choice items for much lower than the original cost. This option was available for the Fall 2020 FabFitFun box, and I choose to purchase 2 additional items (noted in the review below).
Add-On's and Boost My Box
In addition to being able to add on additional choice items, FabFitFun also opens a window of time where you can purchase add-ons for significantly lower prices than the retail cost.
Annual subscribers get access first and usually the best stuff is sold out right away. But it's always worth checking out multiple times as people have a few days to change their minds and update their carts before they are charged.
This season I added on a bunch of items as shown in the bottom half of the review below.
The Boost My Box option is new since last season. It's an option to add 1 of 3 "luxury" items to your box for a discounted rate. I didn't choose to boost my box this season because I already went a little crazy with the add-on's.
If you choose to become a seasonal member, an extra perk of buying an additional choice item or add-on items, is that your FabFitFun box will be shipped in the first wave, after annual subscribers.
** Keep in mind that the window to customize your items closes before boxes ship. If you sign up after the window is closed, you won't get to choose items until the next season's box.
How Much Does FabFitFun Cost?
FabFitFun is regularly $49.99 a quarter. Each box contains over $200.00 in items (usually well over)! You can also pay for a year (4 boxes) upfront for a total of $179.99 which saves you $20.00 over the year and also gives you additional benefits including:
more customization
access to add-ons before anyone else
earlier shipping
You can save $10.00 off of your first box by CLICKING HERE!
Now that we got through all of that, let's see what's in this season's box!
FabFitFun Fall 2020 Unboxing Video
FabFitFun Fall 2020 Review
Please keep in mind that some items will vary and that you will not have the ability to choose items at this time. The window to choose items is only open for a short period of time, before boxes start shipping out.
I will, however, tell you what other items you may receive should you sign up for a subscription before the FabFitFun Fall 2020 box sells out.
Note: it appears this box is sold out and the first box will be the Member's Picks Box which may or may not contain some of these items.
The box always comes with a magazine which discusses the items and other related topics, as well as information about an organization they are supporting.
It's one of the only inserts that I actually enjoy reading. There are also discount codes in the back for some brands that FabFitFun features.
Uncommon James Set of 2 Copper Canisters ($49)
These Uncommon James Copper Canisters are from the first category of choices that all subscribers could pick from. The other options included:
When FabFitFun released all the spoilers for the first choice item in the fall 2020 box, I was s torn as to what to choose.
Initially I wanted the backpack, but I had seen some spoiler images and the bags looked as if they had loose strings on them and weren't all that well made.
From what I've read, it seems as if a lot of these high-end brands allow companies like FabFitFun to have a license to make their products (to their specifications) at a much lower value with less expensive materials.
I ended up choosing the canisters to use in my office. They are really pretty, and will work perfectly in there, but you can also use them in your kitchen or bathroom.
I added on the backpack for an extra $15 (pictures are further down this post). I figure that I'll get plenty of use out of it on day trips with the kids when we may be walking around a lot. It would be much more comfortable to wear a backpack than carry a larger purse over one shoulder all day.
I debated adding on the SACHAJUAN products because I really love this brand. However, I was able to talk myself out it, thankfully, because I currently have plenty of styling creams to use up.
Should you decide to add an extra item from this first category, the cost would be $15 per additional item.
Glossmetics Hair Removal Device ($59.99)
The second category that all subscribers could pick from included this Glossmetics Hair Removal Device as well as:
This category was a bit easier for me to choose from. I've been getting a ton of skincare items from other beauty subscription boxes. I definitely do not need more.
I personally didn't care for the scarf or scarfigan.
I'm so over shaving, waxing, and tweezing, that I decided to choose the hair removal device in the hopes it will make things quicker and easier. I wasn't able to find any reviews on it, so I'll have to test it out myself to see how well it works and how long it lasts.
I believe that to add additional items in this category was also $15 per item.
Nectar Sunglasses Blue Light Blocking Glasses in Brown Tortoise ($45)
The final items that ALL users could choose in addition to these Nectar Sunglasses Blue Light Blocking Glasses are:
This was another easy choice for me.
I have the eyeshadow palette, but have never used it. The colors just aren't for me.
The jewelry isn't my style really, and I have a bunch of masks to use up already.
My full time job is as a food blogger and Sweet Honey Life is more of a fun side project for me. Needless to say, I am in front of a computer screen or my phone A LOT.
I have been noticing my eyes bothering me more, and maybe it's age-related, but I'm hoping that by using blue light glasses, it won't be as bad.
The arms on these glasses are very stiff and hard to open and close. The material feels like it could break easily, as well. I'm going to try to loosen the screws some so that I don't snap them trying to open and close them.
Frank Body Original Coffee Scrub ($16.95)
Only annual subscribers were able to choose their items in this category. The other choices, in addition to this Frank Body Coffee Scrub, are:
Masontops Glass Water Bottle with Neoprene ($35) – I can't find this on the Masontops website or Amazon at this time.
Feel Beauty Renewed Pumpkin Walnut Facial Cleanser ($28) – I can't find this on the Feel Beauty website or Amazon at this time. It looks as if the brand has re-branded their packaging.
As I am typing this up, I am realizing that I don't recall the Feel Beauty Renewed Pumpkin Walnut Facial Cleanser being a choice? I'm not sure if I somehow overlooked it or if there was a website issue as I was choosing – FabFitFun tends to have a lot of issues when choice first opens up.
I chose the body scrub because I don't currently have one and have wanted to try this brand. I've heard it's messy, but we have a detachable shower head so I figure I can use that to spray out the shower afterwards, if needed.
I have a ton of water bottles and don't use brow gel so it was somewhat easy to eliminate those two choices. If I wasn't an annual subscriber I could have ended up with one of those items and would have been disappointed.
HIP Cutlery Set ($14.99)
Annual subscribers could also choose between this HIP travel cutlery set or:
I would have been okay with any of these items if I wasn't able to choose for myself.
I ended up going with the cutlery at the suggestion of my son, who thinks he will be taking it with him to school in his lunchbox.
It will be great to have for picnics or to keep in the car in case we grab something to-go and they forget to give us forks. I wanted to add on an extra set, but this item didn't come up as an add-on option for me.
I did end up adding on the hair clips. I've also used the sugar cube scrub before and liked it, but not enough to buy it again.
I believe that to add on items from this category was only $7 per item.
For the last items, FabFitFun choose 3 items from 3 different categories.
The Laundress Crease Release ($16)
In addition to this Crease Release product from The Laundress, subscribers could have also received:
I was hoping for the pedicure set, as I usually do my own. Actually, I would have taken either of the other two items over the laundry product.
I sprayed the Crease Release onto my wrinkled linen pants and saw no difference. I'll try it again with a thinner fabric and see how that works.
I hope it works on at least some things – I hate ironing. If it does then I guess I won't be so indifferent about receiving this.
Hythe Tranquility Sleep Mist ($22)
The next category including this Hythe Tranquility Sleep Mist, as well as:
In this category I was really hoping for one of the room sprays, but I'm not upset by the sleep mist at all.
I was using ThisWorks lotion before bed and I really felt it helped me sleep better. I just ran out a week or so before this box arrived, so it's perfect timing.
This mist smells similar, so I am hopeful it will work well for me too!
The Beauty Crop Glow Milk in Blind Date ($19.50)
In addition to the Glow Milk, subscribers could also receive:
Zigi & Marias Pouch with Stripe ($30) – I can not find this item on the brands website. It appears that this is a eyeglass company.
None of the items in this category excited me, but I really did not want the pouch. I never have any use for items like that.
I do think that the body wash would have been my choice, if we were able to choose from this category.
Back in my younger days, I was all about the body shimmer, but as I've gotten older, I don't use much more than a tiny bit of highlighter once in awhile.
I have read that this Glow Milk is super shimmery, so I plan to test it to see how it looks on me, but may end up giving it to my cousin's daughter who is starting to really get into beauty.
Fall 2020 Add On's
Botkier New York Trigger Backpack ($100)
I paid $15 to add this item to my box.
As mentioned above, I had noticed in sneak peek photos that the bags didn't look well made. Mine does have a few strings sticking out from the stitching, but it's pretty minor and can easily be trimmed off.
The zippers work perfectly and the inside has a small zippered pocket. It will be perfect for day trips with the kids.
8 Other Reasons Runway Clip Trip ($32)
I think I paid $7 to add this item to my box.
I just thought these clips were really pretty, and since I pull my hair back often, I hope to get plenty of use out of them.
The package does say that you shouldn't use them in water or get perfume on them, that they are fragile and to be gentle. I hope they last.
Busy Beauty Hibiscus Dry Shampoo Multi-Pack ($7, regularly $20)
R + Co Death Valley Dry Shampoo ($9, regularly 29.99)
So, I'm doing this thing where I try to go 2-3 days without washing my hair in an attempt to "re-train" it to not produce as much oil.
Needless to say, I'm using a lot of dry shampoo.
I haven't tried either of these brands for dry shampoo before, so I am hoping they work okay for me. I've heard good things about R+Co.
These types of products have been hit or miss, especially with dark hair.
FakeBake Coconut Tanning Serum ($11, regularly $31)
FakeBake Flawless Dark Tanning Lotion ($9, regularly $32)
I LOVE FakeBake tanning lotions. It's my go-to self-tanner, but the price was much higher on Amazon the last time I went to order it that I tried something else….and don't like it.
When I saw these for such a great price, I had to snag them.
I haven't tried the coconut serum before, but if it works similar to the Flawless Tanner, I'll be happy.
DpHUE Cool Brunette Shampoo & Conditioner Duo ($19, regularly $48)
I've tried a few DpHUE products and have LOVED them. I'm also a big fan of Justin Anderson, who owns this brand. He just seems like a genuine, nice guy.
This shampoo is supposed to tone down warm highlights in brown hair. My hair tends to show red highlights, unless it's freshly colored. I'm hoping this will help control that.
LaTweez Pro Illuminating Tweezers with Diamond Dust Tips in Lavender Ombre ($14, regularly $36)
I could care less about the light, the crystal on/off switch, and the travel case these tweezers come in. I just need a GOOD pair of tweezers that actually grab hairs easily and I figured this LaTweez tweezers might be better than what I have.
It seems every pair I try is just mediocre, but I didn't want to spend a ridiculous amount of money on tweezers.
I would never pay $36 for tweezers that might or might not work for me. Even $14 was a stretch, but I did it. I hope they don't let me down.
Uncommon James Square Planter ($15, regularly $24)
SORBUS 3 Drawer Organizer ($11, regularly $32)
I bought these last two items for my office.
The planter is tiny. I should really pay more attention to the dimensions of things before adding them to my cart. It also doesn't have an Uncommon James label anywhere on it.
I'll probably stick a singular succulent or cactus in there and place it on my desk.
The drawers are tiny, as well, but I knew this. I'm not 100% sure yet how I plan to use them, but I'll figure it out.
FabFitFun Summer 2020 Final Thoughts
This was a pretty good box for me. I prefer items that I can use up, or that I will get a lot of use out of. The only one I'm not so sure about is the Glow Milk.
But, since reviews are just a matter of personal opinion, let's talk about value of the Summer 2020 FabFitFun box.
Is this seasons box worth the $45.00 that I paid for it ($49.99 for seasonal subscribers)? In my opinion, absolutely. I received $243.43 worth of items (not including add-ons). If I had chosen the Botkier backpack and the hair clips, rather than adding them on, my box value would be $315.44). For me, what makes a box "worth it" is if I will use the large majority of the products. In this season's box, I absolutely will.
Next, does this box fit the season? I feel like it does, but not so much with the items I chose or the three that were picked by FabFitFun for me. I didn't get a scarf or wrap or anything pumpkin. The most fall-ish item that I chose was the canisters and that's just because of the color.
Does this box hit on Fab, Fit, and Fun? My answer is the same as last seas on. The box always hits on "fab" and "fun" for me. There is no "fit" aspect to the box itself. There were some options in the add-ons but they sold out fast. Being that I've really been into working out lately, I'd love to see more items in this category.
How Can You Subscribe To FabFitFun?
To sign up for FabFitFun, just click here and you will save $10.00! Currently, your first box will be the Member's Picks Box, which is different than the fall box. Your next box will be the Winter 2020 FabFitFun Box.
I hope you find this Fall 2020 FabFitFun Subscription Box Review helpful. If you have any questions, please don't hesitate to ask.
Also, be sure to follow me on Instagram and Pinterest for more fun, lifestyle content!